Khadija Ismayilova Subjected to Cyber Attacks – Authorities Suspected
In recent weeks renowned journalist and human rights defender Khadija Ismayilova has been subjected to cyber attacks and has expressed no doubts that the Azerbaijani authorities are to blame for these attacks. Civil Rights Defenders condemns the harassment of Khadija and her family and calls for an immediate investigation into the matter and for the perpetrators to be brought to justice.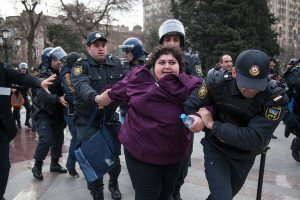 Both Khadija and her family's phone numbers have been posted three times on an advert offering "sexual services". The cyber attacks range from new accounts been created containing the phone numbers of Khadija and her niece to a phone number that was unregistered in her name also being posted.
According to Khadija only the government could have such sophisticated surveillance equipment to allow them to associate the journalist to this unregistered phone number.
"This is how our government operates – we know because they have also done it to several youth activists, female youth activists," said Khadija Ismayilova "They post advertisements saying "all sexual services are available" on a hacked Facebook profile, with their name and all their contact information" .
Women human rights defenders are often exposed to harassment through smear campaigns and ridicule often laced with sexual innuendo, psychological pressure and sexual violence in an attempt to discredit their work and prevent them from their activism. It also serves the purpose of isolating women from their societies. For women in many societies if their "honour" is questioned they often lose support they once had from their communities. In other words it often becomes easier to ignore their voices and withdraw support from their work.
This is not the first time Khadija has been exposed to a sexualised attack. In 2012, unknown actors attempted to blackmail her with a surreptitiously filmed sex tape and photos, and demanded she cease publishing or they would be released. Khadija instead went public with the threat and condemned official attempts to silence journalists.'
"Social media, which often is a great tool for the promotion of human rights, is often turned into a weapon against them," said Martin L. Fällman, Protection Officer and Digital Security Specialist, Civil Rights Defenders. "Often it goes beyond just spreading rumours—personal information or stolen or doctored photographs are also often involved. It is important that we stand together with the women human rights defenders who are targeted in these attacks, and that we express our solidarity and support loudly and in public".
Khadija is an investigative journalist, based in the country's capital Baku. Her award winning investigations looked at corruption in Azerbaijan and often focused on the Aliyev regime that have ruled the country with an iron fist; silencing critics and imprisoning scores of lawyers, journalists and human rights defenders. Often Khadija's investigations dealt with spurious business deals involving the family of the President of Azerbaijan to blatant corruption within state financing departments.
Khadija has paid a heavy price for her activism and was sentenced to 7,5 years in prison in September 2015 on politically motivated charges of embezzlement, tax evasion, illegal entrepreneurship and abuse of office.
Through an extensive worldwide campaign that expressed universal condemnation for the sentencing, Khadija finally walked free from prison after the Supreme Court in Baku reduced her 7½ year prison sentence to a suspended term of 3½ years this year.