Natalia Project Expands to Macedonia
Civil Rights Defenders is proud to welcome its first Macedonian participant to the Natalia Project: Bekim Asani, President of LGBT United Tetovo.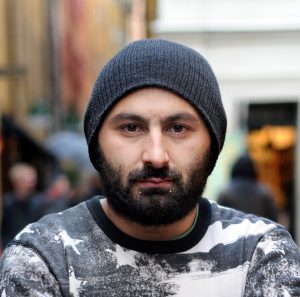 Bekim Asani is one of Macedonia's most profiled LGBT activists. The current situation for LGBT people in Macedonia is worrisome. Despite the fact that Macedonia is a member of the Council of Europe and has signed the European Convention on Human Rights, the rights of LGBT people are not being upheld. The anti-discrimination legislation does not prohibit discrimination based on the grounds of sexual orientation of gender identity, and hate speech and threats are present both in media and social media.
Bekim Asani is Natalia Project's first participant in Macedonia.
"Becoming part of Natalia Project means a lot to me. Knowing that the world will know within minutes if I have been attacked makes a huge difference for me, not only for my own personal wellbeing, but also because it also allows me to focus all my energy on improving the situation for LGBT people in Macedonia," says Bekim Asani.
Unfortunately the development for LGBT people in Macedonia is going in the wrong direction. Only in January 2015, Macedonia ignored criticism from the Council of Europe and adopted an amendment that defined marriage as a union between man and woman. Same sex marriages and registered partnerships are banned.
"In these dire times, Bekim Asani's work is more important than ever and I am happy to welcome him to Natalia Project. Ensuring the safety of those working for the full inclusion of everybody into Macedonian society is pivotal if Macedonia is to develop to a country that respects human rights for all," says Marie Månson, Programme Director for Support to Human Rights Defenders at Risk at Civil Rights Defenders.
---
Natalia Project is the world's first alarm and positioning system for human rights defenders at risk powered by social media. All participants go through extensive security training before being equipped with a personal alarm. In the case of an attack, a distress signal is sent to Civil Rights Defenders headquarters in Stockholm. Once the signal has been verified, the alarm goes out through social media to let the world know. More info here.