Award Ceremony Honours Those who Campaign Against Discrimination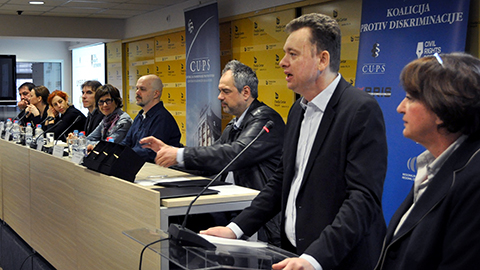 On 21 April 2015, members of the Coalition Against Discrimination announced the winners of the 'Struggle Against Discrimination' Award, at the Media Centre in Belgrade. The winners were chosen due to their exceptional contribution in preventing discrimination in Serbia throughout 2014.
The journalist Ljubomir Zivkov received an award for his dedication in bringing discrimination issues into the public debate. Studio Design was awarded as a representative for the business sector, while the Humanitarian Law Centre, a long time partner of Civil Rights Defenders, received an award under the category civil society. Journalists Kristina Saric and Tamara Srijemac from Radio Television of Vojvodina were both awarded under the category of media and the Department for Public Peace and Order and the Belgrade Police Department received an award under the public authorities category, for their contributions to a safe and secure Belgrade Pride 2014.
"Despite the fact that we finally had a safe and secure Pride in Belgrade in 2014, a number of human rights violations also occurred throughout the year. These awards are meant to honour the winners and inspire everyone else. Everyone must be able to enjoy their human rights free from discrimination", said Goran Miletic, Programme Director for the Western Balkans at Civil Rights Defenders.
The Coalition Against Discrimination is a network of organisations working together on anti-discrimination and equality issues in Serbia. The Coalition was created in 2004 by Civil Rights Defenders and the Center for Advancement of Legal Studies and campaigns against human rights violations and serious acts of discrimination.
The members of the Coalition consist of Civil Rights Defenders together with various partners: The Center for Advancement of Legal Studies, LABRIS-Organisation for lesbian human rights, the Network of the Committees for Human Rights in Serbia-CHRIS, Praxis and Regional Centre for Minorities, as well as The Association of Students with Disabilities and Gayten LGBT.