Roma Families in Albania Suffer On-Going Discrimination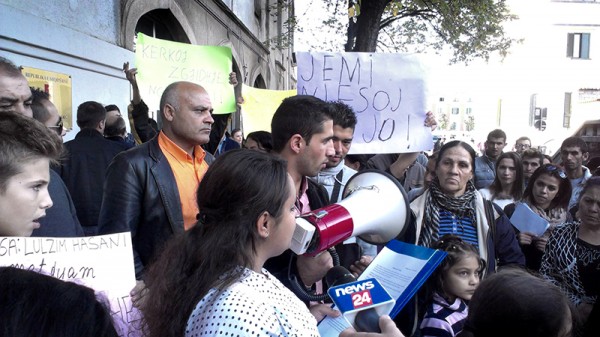 In the area of Selita in Tirana, 70 families, a majority of them Roma, are threatened with evictions. Civil Rights Defenders demand that the local municipalities and authorities coordinate and carry out a plan of action to prevent these evictions and ensure affected families adequate housings.
Civil Rights Defenders expresses its deep concern over the Albanian authorities disregard of the right to housing policy and the ignorance towards the Roma community. Civil Rights Defenders demand that authorities like the Ministry of Urban Development and Tourism, coordinates and carries out a plan of action to prevent these evictions. The authorities should also ensure the affected families adequate housing through consultation and negotiation.
International human rights standards provide for the right to adequate housing and protection from forced evictions. If the Albanian authorities do not take action to prevent the evictions targeting Roma they not only violate these rights but also the right to non-discrimination, said Vasilika Laçi, Programme Officer for Albania at Civil Rights Defenders.
The families most affected by the threats, are those who live in concrete houses and have applied for legalisation, based on Article 39 of the Law on Legalization of Informal Buildings. There applications are still pending and the buildings can therefore not be expropriated. Furthermore, four of the families are living in dwellings and are not being considered for legalisation.
Civil Rights Defenders considers that measures undertaken by the authorities to protect families from forced eviction are insufficient, inappropriate and pose irreparable harm and state that it is clear that the law first and foremost discriminates the Roma. The laws negative impact have already been seen in the case when dozens of Roma families in Elbasan, during the summer of 2014, were asked to leave their houses since the authorities had taken the decision to demolish them.
Under the current Albanian legislation, housing is a social objective and not a right and there is no proper legal protection. The current social housing program is insufficient and doesn't target persons with the lowest income or those who are most in need and creates a constant risk of forced evictions for these exposed groups.
---
The right to privacy, family and home is stated in; Article 17 in the International Covenant on Civil and Political Rights and in Article 8 of the European Convention on Human Rights. As state party to the International Covenant on Economic, Social and Cultural Rights, Albania is under the obligation to recognise everyone's right to an adequate standard of living, including adequate food, clothing and housing. The United Nations explicitly state that this includes protection from forced evictions.