Ales Bialiatski Released After 1,052 Days Behind Bars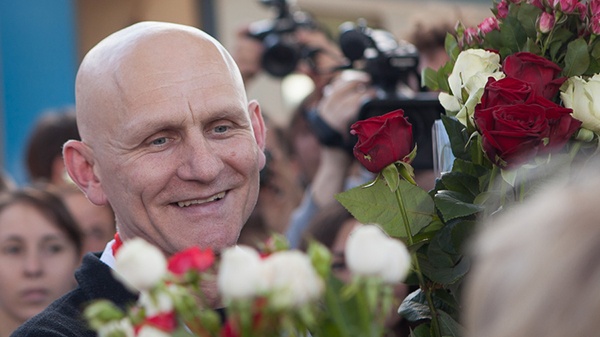 Ales Bialiatski, one of Belarus' leading human rights defenders and the head of the human rights organisation Viasna has been released after 1052 days in prison.
Prior to his arrest Ales Bialiatski had been raising funds to help repressed human rights defenders and their families. On November 24, 2011 he was found guilty on trumped up charges of tax evasion. In 2014 he was awarded "Civil Rights Defender of the Year" during Defenders' Days. His wife and colleague received the award in his honour.
"I cannot describe how happy I am that our good friend and colleague is a free man. Ales Bialiatski's imprisonment was a clear punishment for his human rights work and an attempt to intimidate civil society in Belarus. I have talked to Viasna's deputy Chairman Valiantsin Stefanovich and we both agreed, that we need to continue our efforts to make sure that all political prisoners in Belarus are released," said Robert Hårdh, Executive Director Civil Rights Defenders.
For over 30 years, Ales Bialiatski has pursued a path of continuous struggle to campaign for democracy and human rights, first in the Soviet Union and then in Belarus. Since the establishment of Viasna in 1996, Ales has been arrested over 20 times. Many of these arrests have been for such minor infringements as handing out copies of the Universal Declaration of Human Rights.