Civil Rights Defenders in Minsk to support Ales Bialiatski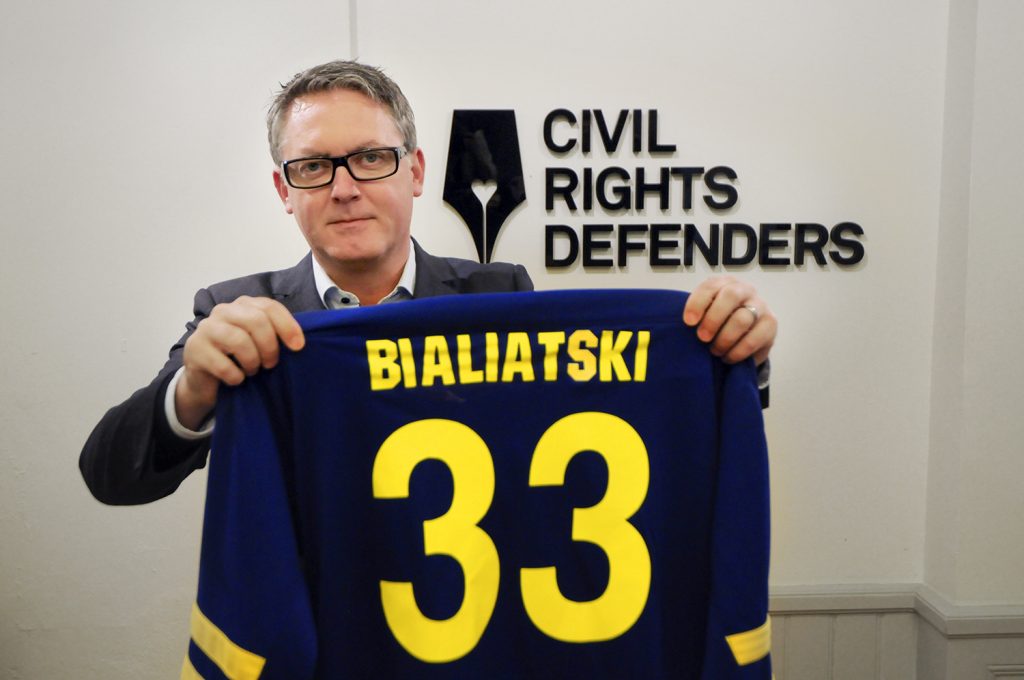 Almost four years has elapsed since Robert Hårdh, Executive Director of Civil Rights Defenders was last in Belarus. In 2010 to monitor the Belarusian election together with Ales Bialiatski – 2014 to highlight the fact that Ales has been behind bars since 4 August 2011 on trumped up charges.

Civil Rights Defenders travelled to Belarus to meet with human rights organisations and the Swedish Ice- Hockey Federations Chairman Christer Englund. The 2014 Men's World Ice Hockey Championships are taking place in Minsk from the 9 to 25 May 2014 despite controversy surrounding the hosting of the event. Civil Rights Defenders will be the only Swedish human rights organisation to meet with the Swedish Ice Hockey Federation to discuss the human rights situation in Belarus.
At the meeting the Chairman, of the Federation Christer Englund will be presented with a symbolic hockey jersey containing the text "Bialiatski 33" written on the back of it. The jersey symbolises the imprisonment of Belarus' leading human rights defender, Ales Bialiatski who was the 2014 recipient of the Civil Rights Defender of the Year Award. He has now been imprisoned for 33 months.
"Human rights defenders in Belarus operate under incredibly difficult conditions risking their own personal safety and are in dire need of international support, including support from the sports movement", said Robert Hårdh, Executive Director at Civil Rights Defenders.
The human rights situation in Belarus is very problematic. Before the Ice Hockey Championships critical voices have been silenced, and several human rights defenders have been hidden away in prisons. Demonstrations and opposition campaigns have been prevented and foreign human rights organisations have been denied entry at Minsk airport.
The only reason that Civil Rights Defenders can go to Belarus is because of an agreement that has been made between the International Ice Hockey Federation and the Belarusian regime regarding the free entry to the country without the need for a visa. Although other organisations have been deported despite the assurances of the Belarusian regime, Civil Rights Defenders expects that the agreement will be respected.