Propaganda Laws Curb Freedom of Expression Amongst LGBT Youth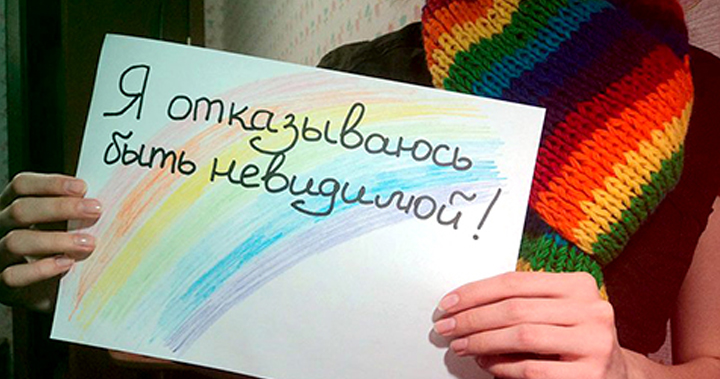 In 2013 Vladimir Putin signed a law banning "propaganda of non-traditional sexual relations to minors" in Russia. In recent events these "propaganda laws" have been used to curb freedom of expression amongst LGBT-youth throughout the country. A website called "Children 404", a support group for LGBT teens, has now been accused of spreading propaganda.
In the beginning of 2013 Lena Kilmova publish several articles about the problems LGBT-youth face today in Russian society. After it's publication she received numerous letters from distressed LGBT teens who wrote about their own experiences and hardships. Klimova decided to act and in March 2013 she created the project "Children 404" on VKontakte (the Russian equivalent to Facebook). In the letters that were sent to Kilmova the teens described their experiences and the challenges they faced in their everyday life in Russia. The letters were published on the website and eventually the social media site became a virtual meeting place for LGBT teens. Now Lena Kilmova faces charges for spreading propaganda to minors.
"In todays Russia LGBT-youth suffer greatly from homophobia in society and studies show that almost one in four LGBT-youth has tried at some point to commit suicide. "Children 404" is one of the few platforms where they can express themselves, share their thoughts and find support. This is yet another example of the harmful way the propaganda laws are being enforced as well as used against individuals that ensures the rights of LGBT people," said Cecilia Rosing, Programme Officer for Eastern Europe and Central Asia, Civil Rights Defenders.
On 31 January, the lawsuit was filed against Lena Klimova. The case were initiated by Vitaly Milonov, the initiator of the regional propaganda law in St:Petersburg and she is being charged for creating an Internet support group for LGBT-teens. Even though the charges lack specific grounds, the court will bring her case up in the upcoming weeks.
"We believe this is a case of wrongful prosecution of a journalist and defender of children's rights. Our lawyers will consult Elena Klimova and represent her in court. We intend to seek an end to the prosecution of Klimova by all legal means," said Igor Kochetkov, Chairman of the International Russian LGBT-network, who will closely monitor the case.