Civil Rights Defenders' founder Gerald Nagler has passed away
Gerald Nagler, a prominent human rights activist, founder of Civil Rights Defenders and Secretary General of the International Helsinki Federation from 1982-1992, passed away on July 23, 2022, aged 92.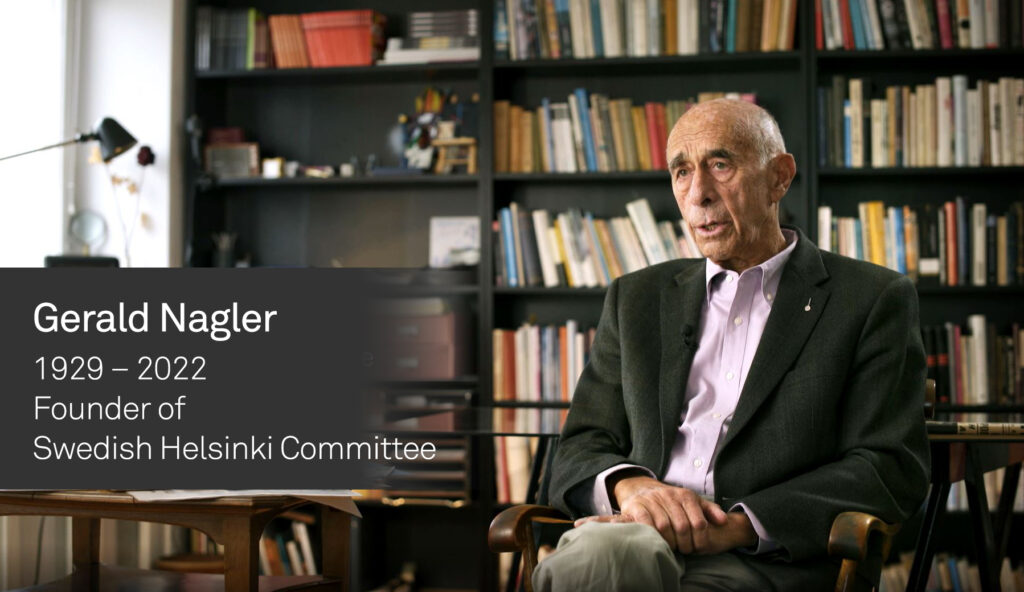 "Gerald was a person, who not only left traces in history, but also shaped it. A person whose achievements have come to guide and inspire future generations of human rights defenders. With his civil courage and incurable optimism, he has been an instrumental advocate for freedom ever since the cold war", says Hanna Gerdes, Civil Rights Defenders' Chairperson of the Board.
Gerald Nagler founded the Swedish Helsinki Committee for Human Rights in 1982 (which later changed name to Civil Rights Defenders), which, together with Helsinki Committees from other countries, monitored the compliance with the human rights provisions of the Helsinki Final Act.

The main focus was to support and draw attention to the persecution of human rights defenders in the Soviet Union and the Eastern bloc, and demand that political prisoners should be released and their rights respected. The work was supported by a hundred prominent Swedish people within the political, academic, and cultural sphere.

The same year, Gerald co-founded the International Helsinki Federation, an umbrella organisation with the aim of coordinating the cooperation and advocacy efforts between the East and West Committees. For 10 years, Gerald Nagler led the work of the Helsinki Federation as Secretary general.

Countless and often hazardous trips were made to countries behind the Iron Curtain to document human rights violations and put countries that did not comply with the agreement in the spotlight.

Between 1992 and 2004, Gerald was the Chairman of the Swedish Helsinki Committee. In the 1990's the Swedish Helsinki Committee gradually shifted its focus and working methods. With the dissolution of former Yugoslavia and the subsequent wars, the organisation began a large scale work in the Western Balkans. During the 2000s, Sweden's compliance to its commitments to human rights became an increasingly important part of the organisation's work. Later on, the organisation changed name to Civil Rights Defenders as the geographical scope extended. Today, Civil Rights Defenders has over 100 employees who support and collaborate with human rights defenders in more than 50 countries.
Gerald Nagler has since 2004 been Honorary Chair of the Board and in 2016 he instituted the Gerald Nagler Human Rights Traineeship, a one-year trainee programme for young lawyers.
"Gerald has been immensely important to and actively involved in the human rights movement up until this day, both in Sweden and internationally. He will leave a huge void, and it is now our responsibility to pursue the work he initiated. It is with sadness and grief that we have received the news that Gerald has left us", says Anders L Pettersson, Executive Director at Civil Rights Defenders.
Gerald Nagler passed away quietly in his home at the age of 92. He is leaving behind his wife Monica Nagler Wittgenstein, children, grandchildren and great-grandchildren, as well as many friends and colleagues worldwide.
Gerald Nagler was awarded several times for his work. He received, among others; H.M The Kings medal 12th size on Seraphim Order Ribbon for significant and long-standing efforts to promote human rights; the Illis Quorum medal; and the "Ehrenkreuz für Wissenschaft und Kunst" medal from the Austrian government. 
---
Gerald Nagler Chronology
1929 – born in Vienna, Austria.
1931 – moved to Sweden with family.
1957 – appointed CEO of Handels AB Urania Stockholm, wholesale and import company for instruments and optical equipment.
1975 – Helsinki Conference resulted in Helsinki Final Act.
1977 – travelled to the Soviet Union and met with Russian dissidents and human rights activists including Andrei Sakharov, Jelena Bonner and others in the Moscow Helsinki Group.
1982 – founded the Swedish Helsinki Committee for Human Rights together with Monica Nagler Wittgenstein.
1982 – co-founded the International Helsinki Federation.
1982–1992 – Secretary General International Helsinki Federation.
1992–2004 – Chairman of the Swedish Helsinki Committee for Human Rights.
2004–2022 – Honorary Chair of the Swedish Helsinki Committee for Human Rights (later Civil Rights Defenders).

---
Film about Gerald Nagler