12th Attack on Belgrade's Pride Info Center Shows Unwillingness and Inability of Serbia's Authorities to Protect LGBTI+ Community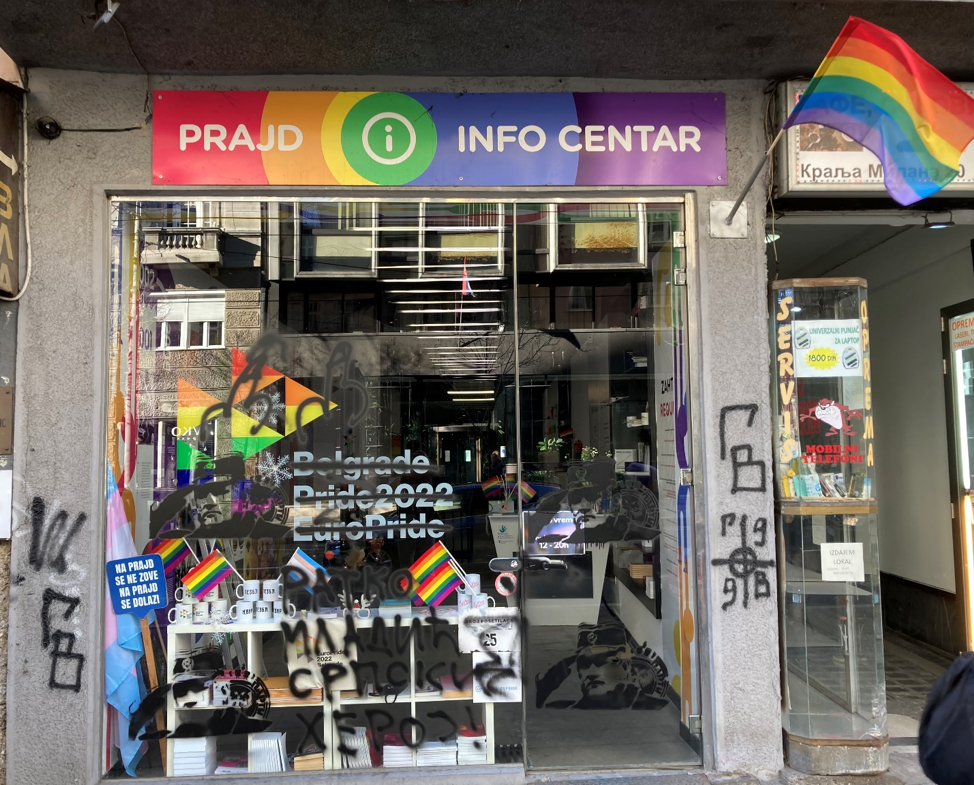 Following another attack on the Pride Info Center in Belgrade, Civil Rights Defenders calls upon the Serbian authorities to break the vicious circle of violent attacks on the LGBTI+ community and ensure Human Rights Defenders work without fear from violence.
At 11.30 PM on December 23 the Pride Info Center in Belgrade was once again attacked and vandalized. A group of masked hooligans spray-painted the window with messages glorifying convicted war criminal Ratko Mladic. This is the 12th attack on the Center since its opening in August 2018 and none of the previous attacks has been thoroughly investigated nor have any of the perpetrators been prosecuted to date.
The Pride Info Center is the first public LGBTI+ space in the country which serves as a social and creative hub for community members, activists, and organisations. Through different activities, they raise awareness about the issues and challenges LBGTI+ persons face as well as about Belgrade Pride and the LGBTI+ movement. Even though it is located in the city center and is surrounded by different government buildings that have 24/7 police security, there have been numerous attacks which are seriously endangering the safety and security of the LGBTI+ community.
This attack comes at a time when right-wing hooligans, emboldened by the lack of institutional response, continue harassing and intimidating human rights defenders. Civil Rights Defenders recently called upon the Serbian authorities to remove a similar mural of Ratko Mladic thus stopping tolerating glorification of war crimes which inevitably incite hate speech and hate crimes.
Our Director for Europe, Goran Miletic, commented "the authorities have so far failed to tackle the continued discrimination, harassment and attacks on the LGBTI+ community thus contributing to creating a climate of fear and impunity. At the same time, we are witnessing an increasing number of graffiti glorifying war criminals, while investigations and prosecutions of suspected war crimes are completely neglected and avoided. The trend of unpunished attacks must be stopped and those committing hate crimes must be held accountable. Having in mind that Belgrade is hosting the EuroPride in 2022, we demand from the competent authorities to fulfil their duties, immediately investigate these incidents and ensure the human rights of LGBTI+ persons are being protected."