Serbia to Investigate Excessive Use of Police Force on Demonstrators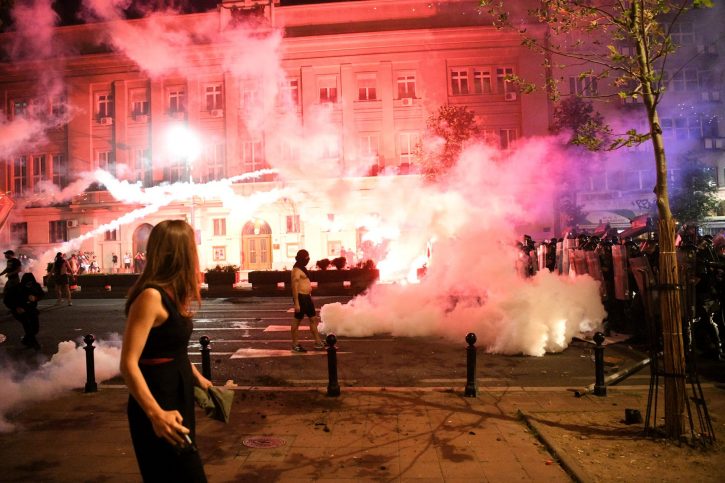 Civil Rights Defenders condemns the excessive use of police force during Tuesday evening's demonstrations in Belgrade, and calls upon Serbia's authorities to investigate all breaches of its own legislation and international human rights standards.
Disturbing video footage shows that excessive and disproportionate force was applied by police to disperse protestors including the beating of peaceful bystanders, violent attacks by the gendarmerie and supposed plain-clothed officers, and the indiscriminate firing of tear gas and stun grenades.
Demonstrators angry at the government's handling of the pandemic had spontaneously gathered outside Serbia's National Assembly following an announcement by President that a mandatory curfew will be reintroduced in parts of the country this weekend, in response to a spike in new COVID-19 cases.
When the first wave of the pandemic hit the region in March, Serbia was under a state of emergency with some of the strictest measures and human rights derogations in Europe – including five-day curfews and the complete restriction on the freedom of movement for persons over 65 for 35 straight days.
In early May, though, the government abruptly lifted all measures and announced that the coronavirus had been defeated. For the following two months, citizens returned to work, bars and clubs reopened, and large sport manifestations were held, including the now-infamous Adria Tour tennis tournament and a football city-derby in front of 25,000 fans. This phase coincided with the campaign period for parliamentary elections, held on June 21st, and the government has been widely accused of attempting to restore normality, even presenting significantly lower case numbers, in order for the election to go ahead.
Civil Rights Defenders Director for Europe, Goran Miletic, said "the use of force demonstrated by police last night featured examples of severe violations of freedom of assembly and torture. The responsibility now lies with the public prosecutor to investigate and initiate a procedure against those responsible."
Finally, we call upon Serbia's government to ensure the public is informed about such events objectively and without bias. Throughout last night's disturbances, neither the public broadcaster nor any other TV channel with national frequency reported on developments.