Authorities Must Investigate the Break-in of Prominent Journalist's Apartment
On Friday 7 July, prominent journalist Dragana Peco's apartment was broken into while she was not at home. Her belongings had been moved around but no valuable items were stolen. In the recent past, similar incidents have occurred as attempts to silence other journalists, and Civil Rights Defenders therefore urges the Serbian authorities to immediately conduct an impartial investigation into the case.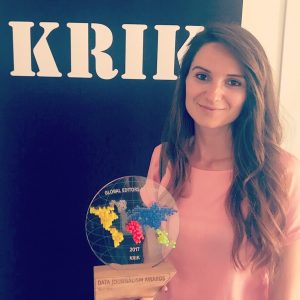 Dragana Peco is an investigative reporter working for Civil Rights Defenders' partner organisation Crime and Corruption Investigative Network (KRIK) in Serbia. Her work is predominately focused on investigating crime and corruption within the Serbian political power.
The situation for media freedoms have deteriorated significantly over the last couple of years in Serbia, and incidents where journalists and the independent media have been intimidated, threatened and subjected to violence have increased over the past several months. During the first half of 2017, the Independent Journalists' Association of Serbia recorded 19 physical and verbal threats to journalists, including four physical assaults, 14 verbal assaults and one violation of property.
On numerous occasions, investigative journalists, including KRIK employees, have been subjected to smear campaigns in the Serbian government-controlled tabloids. In the majority of the cases, no legal consequences have followed for the perpetrators.
"Civil Rights Defenders urges the Serbian authorities to investigate the case of Dragana Peco and all other cases of threats and violence against journalists in the country. The government must work to protect freedom of expression and public information in accordance with the international standards that Serbia has obliged to follow," said Goran Miletic, Director for Europe, Civil Rights Defenders.