The People of Myanmar Have Voted for Change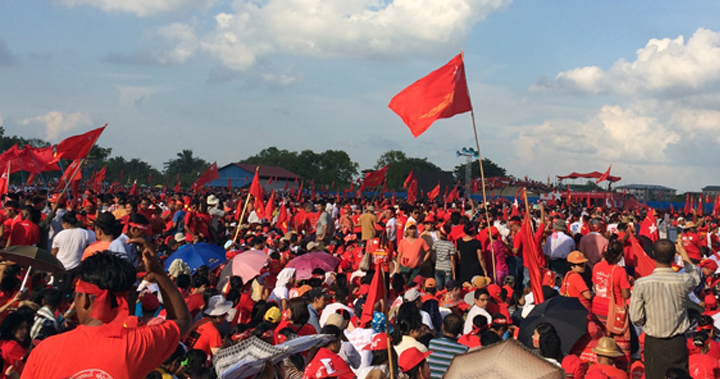 On 8 November, millions of voters headed to the polls for Myanmar's historic election. After almost 50 years under despotic military rule, the euphoria was tangible. Election day proceeded largely without widespread allegations of fraud, misconduct, or violence. Over 90 political parties participated in the election, with an estimated 84% voter turnout. Civil Rights Defenders was there to document the process.
Aung San Suu Kyi's National League for Democracy (NLD) took a landslide victory, securing a parliamentary majority to select Myanmar's next president. It is clear that the people of Myanmar have voted for change. As early results were announced on November 8, hundreds gathered outside NLD headquarters to show their support and celebrate in early victories.
Still, long lines of voters do not alone make this election fair, free, and inclusive. Both systemic and structural problems have rendered the electoral process fundamentally flawed and inconsistent with international standards. This election was a test of the military's willingness to begin relinquishing control.
There is still no effective civilian control of the military, which continues to exercise significant autonomy, enjoys institutionalised immunity, and is constitutionally empowered to take over the government in a "state of emergency" despite an NLD parliamentary majority.
25% of parliamentary seats are reserved for the military allowing them effective veto over any constitutional change. The military will still hold control over key ministries, including both Border Affairs and Home Affairs. Other critical issues, including obvious bias within the Union Election Commission, the disqualification of many Muslim candidates, and the orchestrated disenfranchisement of over 3 million voters including the Rohingya and others, challenges the very integrity of this election.
The incoming government's human rights commitments need to be made clear going forward. It is a significant achievement that civil society took an active role in the lead-up to elections – monitoring, voter education, and by making their voices heard on a range of human rights topics. Still, under the ruling military-backed party, the Myanmar government continues to restrict and abuse fundamental rights with almost absolute impunity. The National League of Democracy and its allies need to commit to making verifiable, concrete, rights-respecting changes. They should ensure accountability for human rights abuses and prevent the recurrence of major rights abuses.