Ethiopia's Zone 9 Bloggers Acquitted on Terrorism Charges
Civil Rights Defenders welcomes the news that the Federal High Court in Ethiopia has acquitted five Zone 9 Bloggers, four of whom have been held in prison since April 2014, on terrorism charges. Abel Wabella, Atnaf Berane, and Natnail Fekeje have all been released.
One of the four bloggers, Befekadu Hailu still remains incarcerated on charges of inciting violence through his blogs. However in a recent development Civil Rights Defenders has learned that he has been allowed to post bail. A fifth blogger, Soleyna Gebremichael has also been acquitted in absentia as she was forced to flee to the USA as a result of the charges pending against her.
However, in a worrying development the Prosecutor has appealed the acquittals to the Supreme Court and should the Court rule in favour of the prosecution then the five could be arrested again and face terrorism Charges.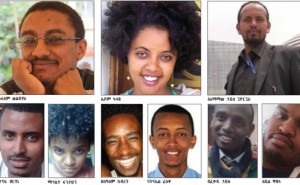 Zone 9 describes itself as "an informal group of young Ethiopian bloggers working together to create an alternative independent narration of the socio-political conditions in Ethiopia". Their motto is "We Care Therefore We Blog."
On the 17th of July 2014, seven members of the blogger's collective, Zone 9 and a further three independent journalists were charged with planning terrorist acts and scandalising the Ethiopian constitution under the Ethiopian Criminal Code. All were initially held in the notorious Maekelawi Police Station, the federal detention centre in Addis Ababa where detainees have been routinely subjected to various torture methods.
"We are delighted that justice has prevailed at long last in Ethiopia and the five Zone 9 Bloggers who were merely exercising their rights to freedom of expression have been finally been found innocent", said Mesfin Negash, Programme Director for East & Horn of Africa.
"However the state of human rights in Ethiopia remains wholly precarious and Civil Rights Defenders will monitor with interest whether the release will be a catalyst leading to long lasting change in the human rights landscape in the country," added Mesfin Negash.
Ethiopia is the second worst jailer of journalists in Africa after Eritrea and ranked fourth on the Committee to Protect Journalists (CPJ's) list of the 10 most censored countries. Currently there are more than six journalists and bloggers in prison.