The Roma Art Caravan – A Campaign Against Prejudice and Discrimination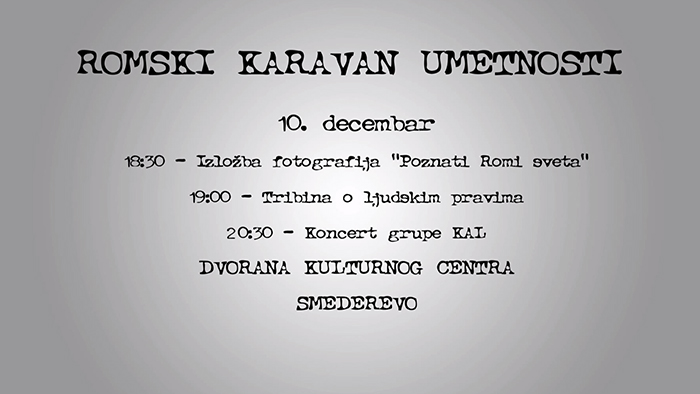 On the International Human Rights Day, 10 December, the – Roma Art Caravan – is launched in Smederevo, Serbia. The event is the first in a series of similar events within the Caravan with the aim to combat stereotypes and prejudice about Roma, and the start of an intense campaign against the structural discrimination that Roma face everyday.
The Roma Art Caravan is supported by Civil Rights Defenders within its Roma Programme and implemented by Roma Cultural Centre in Serbia. Through a series of events in five cities, the Caravan will introduce the public to Romani culture and history. Other events within the caravan will be held in Sabac, Vranje, Knjazevac and Sombor in 2015.
"A lot of people in Serbia don't know that much about Romani culture and history. The Caravan will introduce them to famous people of Romani roots and open up for a dialogue on the state of human rights for the Roma community" said Adi Sinani, Programme Officer for Roma Rights at Civil Rights Defenders.
The first event is held in Smederevo Centre for Culture and consists of a photo exhibition focusing on world-famous Roma, a panel discussion named "When You Think About Roma, Think About Human Rights" and a concert by the famous Rock 'n' Roma band Kal.
''The event gives people a chance to enjoy music from a truly original band, which has invested a lot in promoting Romani culture and identity in Serbia, the Western Balkans and worldwide. They are true ambassadors of the Roma community, wherever they go'' Sinani added.