Zone 9 Bloggers and Journalists Charged with Terrorism
Ethiopian authorities must stop the use of anti-terror legislation to criminalise the legitimate work of journalists, bloggers and human rights defenders in Ethiopia, said East and Horn of Africa Human Rights Defenders Project and Civil Rights Defenders in a joint statement.
The Zone 9 bloggers and journalists who have been held in detention since April 2014 were charged with terrorism by the Ethiopian Federal High Court. Befeqadu Hailu, Atnaf Berahane, Mahlet Fantahun, Zelalem Kiberet, Natnael Feleke and Abel Wabela, all bloggers and human rights defenders at Zone9, were arrested along with journalists Tesfalem Waldyes and freelance journalist Edom Kasaye on April 25, 2014. Asmamaw Hailegiorgis, editor of the weekly magazine Addis Guday, was subsequently arrested on 26th April with another member of Zone 9 bloggers, Soliyana Shimelis, being charged in absentia.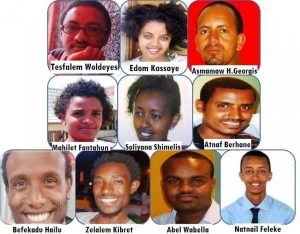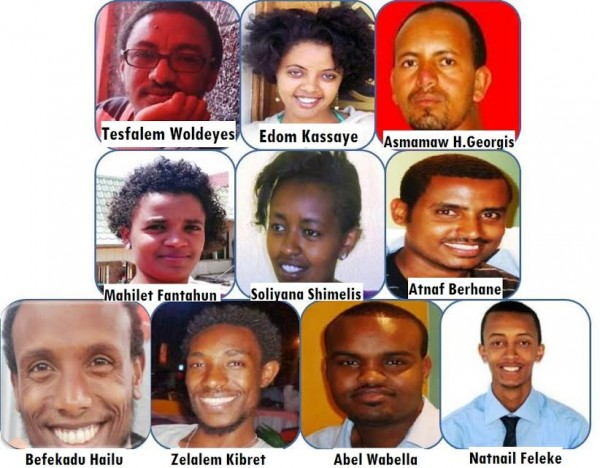 Zone 9 describes itself as "an informal group of young Ethiopian bloggers working together to create an alternative independent
narration of the socio-political conditions in Ethiopia." The bloggers had returned to activism on April 23, 2014 after seven months of inactivity due to ongoing harassment by government security agents.
They are accused of working in collusion with the banned opposition groups Ginbot 7 and the Oromo Liberation Front (OLF). AFP news agency quotes Judge Tareke Alemayehu stating that, "They took training in how to make explosives and planned to train others." However the bloggers have denied all these allegations.
During their previous court appearances the defendants complained that they were subjected to torture and mistreatment at the hands of their investigators. According to local media sources some of them told the Court that they were forced to sign a confession.
In an interview with the BBC last week, Ethiopia's prime minister, Hailemariam Desalegn denied that the authorities were being heavy handed in applying anti-terror laws which came into force five years ago. He also cautioned that the Ethiopian government will not let anyone with any connection to terrorists go free. This followed the controversial extradition of Ginbot 7 leader, Andargachew Tsege from Yemen to Ethiopia.
"Freedom of expression including press freedom is vital for democracy and development in any society," said Hassan Shire, Executive Director EHAHRDP. "Journalists and bloggers play an important 'watch dog' role in holding the government accountable for its action.  Ethiopia needs to create conditions to allow them to function effectively."
"Respecting Freedom of expression on the Internet is as important as off-line expressions. Intimidating and criminalising peaceful online and off-line reporting and activism contravene all internationally accepted norms and rights, says "Marie Månson Programme Director for Support to Human Rights Defenders at Risk at Civil Rights Defenders.
We urge the Ethiopian government to ensure that the trial is fair, transparent, and in compliance with Ethiopia's constitution and international human rights obligations, and ensure that the trial is open to public observation and free of political influence.