Vietnamese human rights defender still imprisoned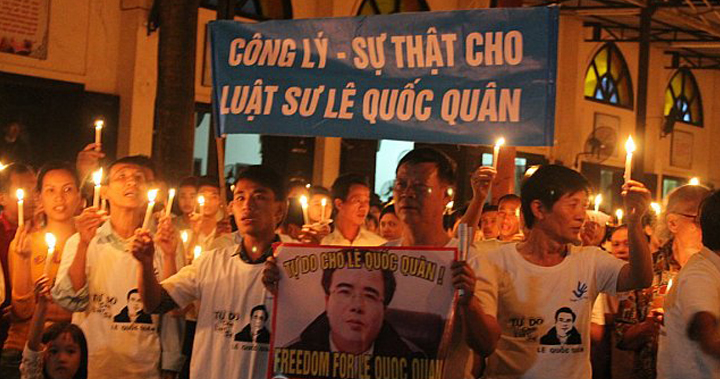 Le Quoc Quan, a human rights lawyer well known for his oppositional blog posts, remains in prison after a court in Hanoi upheld a previous sentence against him on 18 February. There was hope that Vietnam's new found place on the UN Human Rights Council might increase pressure on the judiciary for a fair trial leading to his release so the decision is highly regrettable, says Brittis Edman , Southeast Manager at Civil Rights Defenders.
In 2007, Le Quoc Quan was first arrested after participating in a democracy education workshop in the United States. In December 2012 he was arrested for the second time on charges of tax evasion. The Court sentenced him in October 2013 to 30 months in prison and he was ordered to pay a fine of $46,000 as a result of these alleged breaches. It is also reported that the human rights activist is currently ill following a prolonged hunger strike.
Le Quoc Quan is the founder of the law firm Quan and Brothers. His clients consist of factory workers involved in labour disputes and marginalised groups in Vietnam. He has also been a dedicated Internet activist who has widely written about one-party rule and constitutionality issues in Vietnam. He is also charged with providing free Internet services to people seeking legal justice and information about their rights many of whom do not have financial recourse to pay for legal counsel.
Le Quoc Quan had published a critical blog post about the Vietnamese Constitution , just nine days before his arrest in December 2012 and just before the government itself launched a comprehensive audit process of the Constitution. He was then imprisoned because of alleged irregularities regarding one of his businesses, even though Vietnamese law requires that a company and its director should be viewed as two separate legal entities.
He is imprisoned in Hanoi in Hoa Lo prison and it is now clear that he will most likely serve his sentence without the possibility of appealing the decision. The day before the court hearing thousands of people took part in a demonstration in support of him while hundreds gathered outside the Court on the day of the hearing. They had been denied access to the hearing. Days before the trial Le Quoc Quan was denied visits from his lawyers and he has not had access to court documents which were necessary for his defense.
The UN Working Group on Arbitrary Detention ( UNWGAD ) has expressed that the charges against Le Quoc Quan can be linked to his human rights work and has clearly violated the rights to freedom od expression under Article 19 of the UN International Covenant on Civil and Political Rights ( ICCPR) , which Vietnam has ratified .
Civil Rights Defenders believes that the case shows how flawed legal certainty is for human rights defenders in Vietnam.