Threats Against Leading LGBT Activist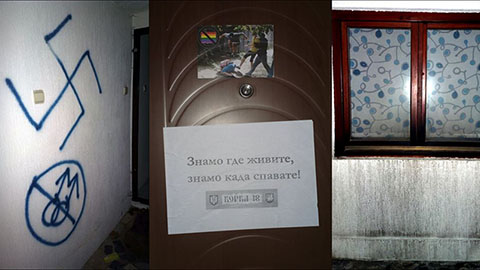 Civil Rights Defenders demands urgent action from the police, prosecutors and courts regarding the threats directed to of one of Serbia's leading LGBT activists, Boban Stojanovic. Civil Rights Defenders are of the strong opinion that these threats are a direct consequence of the lack of willingness by state authorities in preventing discrimination and protecting LGBT rights.
Boban Stojanovic is the coordinator of LGBT organisation Queeria Centre and member of Belgrade Pride 2013 Organisational Committee. The graffiti with hate speech and threats was written outside of his apartment on 27 October. A swastika, anti- LGBT signs (two male symbols crossed out), the messages "we know where you live, we know where you sleep" as well as a picture of an LGBT activist getting beaten up was signed Combat 18. A well-known pan–European neo–Nazi network with cells in each Balkan country.
Threats and hate speech are direct consequences of the lack of activities by state authorities in preventing discrimination and protecting LGBT activists.
"Extremist's groups feel empowered and supported by Serbian authorities, leading the country in a dangerous direction where everyone's liberty and security, privacy and freedom of thought and expression are endangered, said Goran Miletic, Programme Director for the Western Balkans at Civil Rights Defenders. "
Security, privacy and freedom of thought and expression are all values guaranteed by Articles 8 and 10 of the European Convention on Human Rights. The hate crime against Boban Stojanovic also breached Article 14 of the same document which prohibits any form of discrimination, including discrimination based upon sexual orientation. As well as Articles 3, 7, 12, and 19 of the Universal Declaration on Human Rights, along with a number of other international documents. All documents signed by Serbia.
"We expect that the police bring in the perpetrators fast, we demand that the prosecutor's office puts all their energy to sentencing everyone involved and the court to issue a proper verdict. Human rights defenders must be protected at all times or Serbian society will inevitably start sinking. As Boban wrote himself, these graffiti are not only threats, but actions" said Goran Miletic.
Insecurity of all sexual minorities in Serbia is a common thing and Civil Rights Defenders state that the threats towards Boban Stojanovic is a sign that the state failed in protecting its citizens and their basic rights.
"LGBT persons are subject to everyday threats and harassment, but most of them are too frightened to report them. This case must be a turning point in fight against impunity and break the spiral of silence about violence towards LGBT people in Serbia", said Goran Miletic.
"Serbia is a signatory of the European Convention on Human Rights and a member – state of the Council of Europe since 2003 and must provide peaceful and secure life to all its citizens, regardless of their personal attributes. If Serbia is not capable of doing this, it's time to ask ourselves who really controls this country", said Goran Miletic.