Belgrade Pride Parade Banned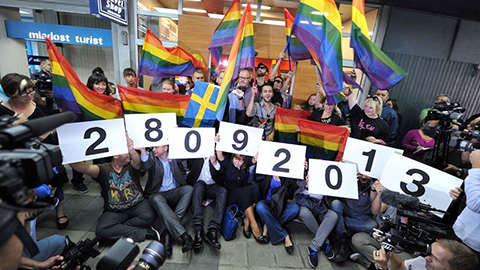 Late Friday evening, the Serbian Prime Minister Ivica Dacic announced that the Belgrade Pride parade was banned. The reason being that "nobody could guarantee a safe holding of the parade," while there were "serious threats to the peace and public order." Civil Rights Defenders condemn the decision of the Serbian authorities.
This is the third year in a row that the parade has been banned. In spring 2013, the Serbian Constitutional Court ruled that the ban on the Pride Parade in 2011 was a violation of the right to freedom of assembly, guaranteed by the Serbian Constitution.
In a statement to the Serbian Television RTS, the Prime Minister stressed that the ban "did not mean a capitulation to hooligans. "The only limitation that will always be there are security reasons, when it comes to any (public) gathering,"
Robert Hårdh, Executive Director of Civil Rights Defenders, in Belgrade during Pride, is extremely disappointed:
"The citizens of Serbia are again ignored by their government, which refuses to realize people's wish to belong to a modern society. The ban is yet a disappointing concession to the radicals and nationalists. EU must act accordingly."
Civil Rights Defenders' Program Director for the Western Balkans, Goran Miletic, expressed concern a few days ago that the parade would be banned again, and sadly he was right. He then underscored the importance of the Pride parade. It is about being able to exercise your right to peaceful assembly, one of the human rights clearly defined in international and national laws.