Jailed Blogger on Hunger Strike for Nearly Four Weeks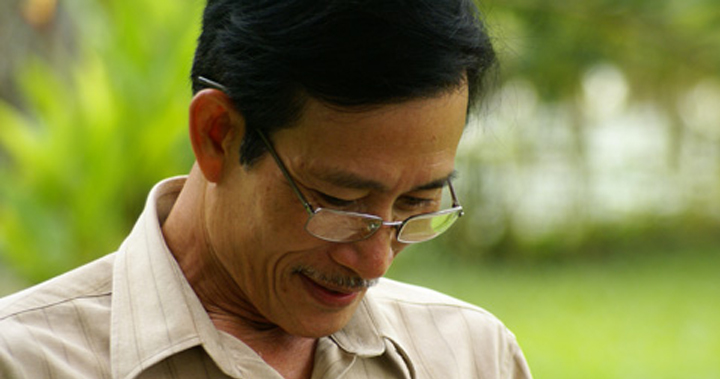 A prominent imprisoned Vietnamese blogger, Nguyen Van Hai, more known under his pen name Dieu Cay, is on hunger strike since four weeks. Hai who is serving a 12 years prison term for his peaceful activism reportedly started his hunger strike on 26 June in protest against prison conditions.
Authorities denied Hai's family members a visit after the news of this hunger strike leaked. Hai's ex-wife Duong Thi Tan, who tried to visit him, was told that "he was being disciplined and during this time he would not be allowed to see family members," Radio Free Asia reported. The authorities accused Hai of "disturbing prison order." The family was set to visit again on 19 July.
Hai's hunger strike is one in a wave of hunger strikes among prominent prisoners of conscience in Vietnam. Amid this on going hunger strike, his second in less than six months, family members and friends are deeply concerned about his health and the treatment of the blogger in the prison.
Nguyen Van Hai was due to be released in October 2010 after serving a two and half years prison term when the government accused him, along with two other bloggers, of spreading "propaganda against the state". The charge against the three based on articles published on the website the three run "Free Journalists Club." With this politically motivated charge Hai was sentenced to 12 years in prison. The international community, including the UN, has been pressuring the Vietnamese government to ensure an end to politically motivated charges against bloggers, and to release them from prison.
In a related development, 69 bloggers issued a first-ever joint statement for law reform.
As many as 69 Vietnamese bloggers signed a petition demanding the government to uphold "the highest standards in the promotion and protection of human rights" ahead of Vietnam's candidacy to the UN Human Rights Council (HRC).
The bloggers call on the government and the HRC to reform Article 258 of the Penal Code, which is widely used to crackdown against bloggers and stifle freedom of speech.
The petition detailed recent high profile arrests and abuses against bloggers. The statement by the petitioners stressed that "it would be a great responsibility to serve as a member state of the Human Rights Council, and an opportunity to promote human rights domestically and abroad. For a successful candidacy, we believe Vietnam must repeal or make amendments to Article 258 to ensure that Vietnamese people are free to educate themselves about and promote human rights."
Civil Rights Defenders supports the call of the blogger and encourages the Vietnamese government to take necessary reform measures to improve the human rights situation in the country.