Deteriorated Prison Conditions for Ales Bialiatski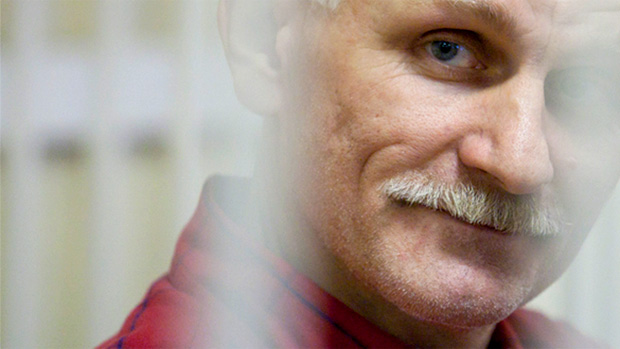 Prison conditions for the jailed Belarusian human rights defender Ales Bialiatski continue to deteriorate as the head of human rights centre Viasna is now denied the possibility to receive food parcels from outside.
Earlier this week Ales Bialiatski´s wife was denied by the Bobruysk Colony No. 2 to pass on a food parcel, where her husband has been detained. She was then informed that Bialiatski´s right to receive food from visitors was suspended in March for six months.
"We urge the authorities to ensure a correct treatment of Ales Bialiatski and not to abuse prison regulations to his disadvantage", says Marie Månson, Programme Director at Civil Rights Defenders.
Disciplinary measures have continuously been used against the chair of Human Rights Centre Viasna since his imprisonment in November 2011.
Ales Bialiatski received several reprimands in prison and was subject to restrictive measures limiting his rights to receive visits, food parcels and other. Ales was also declared a "persistent offender" which excluded the possibility of being granted amnesty in July 2012, when a number of other prisoners were released. Moreover, the amount of personal funds that he could use to purchase food and other basic items was decreased five-fold by the colony administration.
In August 2012, he was denied receipt of food parcels and visitation rights because he brought a piece of bread to his cell after dinner and put up a curtain around his bed for privacy. In October 2012, the weight of parcels the human rights defender was allowed to receive was also reduced, a measure that does not apply to any other prisoner.
In August 2011 Ales Bialiatski was arrested, suspected of serious tax evasion, after Lithuania and Poland had disclosed information about Belarusian individuals' bank accounts, at the request of the Belarusian authorities. Ales Bialiatski is the head of Belarus' leading human rights organisation Viasna. Since Viasna has not been able to register and operate legally in Belarus, the organisation was forced to open private bank accounts abroad. In November 2011 Ales Bialiatski was sentenced to four and a half years in prison and confiscation of property. Civil Rights Defenders has repeatedly protested against the treatment of Belarus' political prisoners and demanded the immediate release of Ales Bialiatski
In 2006 he was awarded the Swedish Government's Per Anger prize for his "courageous struggle for the ordinary man's right.