Nguyen Van Hai aka Dieu Cay
Blogger Nguyen Van Hai (pen name Dieu Cay) has drawn the ire of the Vietnamese government with his human rights promotion and criticism of the authorities. They have kept him behind bars since 2008, and during the past 18 months, his family and lawyers have had no access to him. In April, he is brought to trial for the second time, now under national security legislation for his peaceful blogging.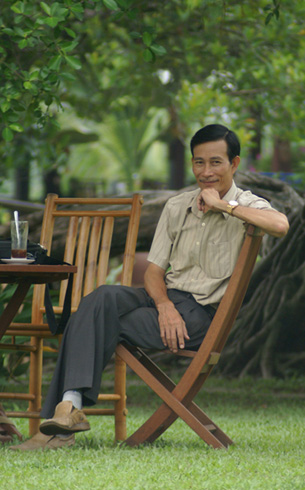 On 19 October, 2010, Nguyen Van Hai was due to be released after serving two and half years in prison for tax evasion. On the same day, his family was informed that he would not be let out. Instead, Van Hai was accused of spreading "propaganda against the Socialist Republic of Vietnam" (Article 88 of the Vietnamese Penal Code).
Van Hai is considered one of Vietnam's most influential bloggers. Writing under the pen name Dieu Cay, he was a pioneer when blogging first took off in Vietnam in 2007. "Dieu Cay" is Vietnamese for a peasant's water pipe, and he chose the name to lend support and give a voice to poor and marginalized groups in Vietnam.
Van Hai started campaigning for social justice after a wave of demonstrations of farmers in Ho Chi Minh City in 2007. Farmers from several Western provinces gathered to protest at inadequate compensation after the authorities had confiscated their land. Police used force to break up the demonstrations. Van Hai met some of the protesters, and was taken by their stories, which he wrote down in a book. He later said that he shared their burden and wanted to stand up for their rights.
After following demonstrations for better working conditions for shoe factory workers in 2008, he also expressed how he saw their vulnerability as his own:
"As of today I stand on the side of the workers union, and I am with them in their struggle because I have become one of them. Side by side with my brothers and sisters, I will fight to the end. I am blessed for life to give me such wonderful friends. Let us hope the moment comes soon when all of my colleagues will prevail." (excerpt from his blog)
With some fellow activists, Van Hai established The Club of Free Journalists, a blogger network that quickly rose to prominence. They all wrote about issues such as corruption, the political relationship to China, social injustice, and the lack of human rights.
Since 2008, the authorities have silenced this independent voice by keeping Van Hai in continuous imprisonment. Already in May 2009, The UN Working group on Arbitrary Detention concluded that his detention was contrary to international law.
After one and a half years in incommunicado detention, on 29 March he finally allowed to meet his lawyer in a detention center in Ho Chi Minh City. He was sick and had lost a lot of weight. His family has not yet been able to meet with him.
In April 2012, Van Hai will face trial again. It is crucial that both media and foreign diplomats will seek to monitor the trial to ensure maximum visibility to Van Hai's case. The trial is expected to take place in mid-April. Two other bloggers will stand trial at the same time, also charged with crimes against national security for their peaceful writing.
It remains unclear which prison or prisons he has been in since October 2010. What is clear, however, is that the conditions in Vietnamese prisons are very poor and prisoners depend on food supplements from relatives and friends. This is one reason why Van Hai's wife Duong Thi Tan has been very worried about his wellbeing. She has repeatedly sought permission from prison authorities to visit him to hand over food and other supplies. But the food packages were never delivered. Once it was even returned to her with the explanation "he refuses to accept them."
Civil Rights Defenders believes that the charges against Nguyen Van Hai have been politically motivated, in order to stop his hard-hitting criticism and his defence of human rights. The first trial was far from fair and did not live up to international standards.
---
Bio: Nguyen Van Hai
About 60 years old.
Has served in the military.
Married.
Van Hai's pen name: Dieu Cay, means something like "farmers water pipe". These water pipes, made out of Bamboo, are used by farmers to smoke tobacco. It is a symbol for farmers, poor people.
Together with other bloggers Van Hai formed the Organisation for Independent Journalists (Câu Lạc Bộ Nhà Báo Tự Do).
In 2008 Van Hai received an award by Vietnam Human Rights Network because of his commitment for freedom of speech. In the following year Van Hai also received the Hellman/Hammett-award by Human Rights Watch.
---
Human rights at risk in Vietnam
Ngyuen Van Hai's case is no exception in Vietnam. It is part of a system based on surveillance, censorship and threats to restrict the right to freedom of expression. To stifle voices they do not tolerate, the authorities routinely press trumped up criminal charges against people who raise peaceful criticism, including human rights defenders.
Vietnam is "the world's second biggest prison for netizens after China," according to Reporters without Borders in its 2012 Internet Enemies report. The report highlights imprisonment and other repression against netizens, i.e. online activists, worldwide.
There is a tendency to overlook Vietnam's human rights abuse. China and Burma inadvertently steal the human rights limelight, leaving Vietnam to look like the good guy in the region. Clearly, it is not.
Independent media is illegal and blogs are prohibited from disseminating ‐ and even linking ‐ content that opposes the government. Bloggers and online journalists are subject to arbitrary detention and lengthy prison terms for expressing views that the government considers harmful to national security or disturbing to the social order.
Despite repression and control, growing numbers of Vietnamese people are braving the threats, finding ways to voice their views about issues like corruption, government policies towards China, land grabbing and police violence. And they appear increasingly strategic about how to keep up their activism without risking arrest.
---
Vietnam Facts
Capital: Hanoi
Population: 89 million (UN, 2010)
Life expectancy: 73 years (men), 77 years (women) (UN)
Religion: Buddhism
President: Truong Tan Sang
Other: After three decades of wars, in 1975 Vietnam became a unified country once again. Today Vietnam is one of the fastest-growing economies in Southeast Asia. In 2007 Vietnam joined the World Trade Organisation (WTO).