Our Vision, Mission, Theory of Change and Core Values
Civil Rights Defenders is a politically and religiously independent human rights organisation. We partner with and support human rights defenders who work in some of the world's most repressive regions on four continents. Through advocacy, litigation, and public campaigns, we advance people's rights globally. We also act as Sweden's civil rights watchdog.
Civil Rights Defenders' Vision
A world of democratic societies in which we all enjoy our civil and political rights.
Civil Rights Defenders' Mission
Our mission is to defend civil and political rights together with human rights defenders and to increase their security, capacity, and access to justice.
We work as a part of a global movement of human rights defenders and partner with those at risk. Through legal means and public advocacy, we hold states, individuals and non-state actors accountable for human rights violations.
We advocate for the norms and values of the International Covenant on Civil and Political Rights and other relevant human rights standards, as we encourage people to use these rights to promote democratic societies.
Civil Rights Defenders' Theory of Change
Our theory of change describes how Civil Rights Defenders contribute to the pursuit of our vision by changing the human rights situation in the regions where we work.
➤ Our theory of change: Read Civil Rights Defenders' theory of change in detail here.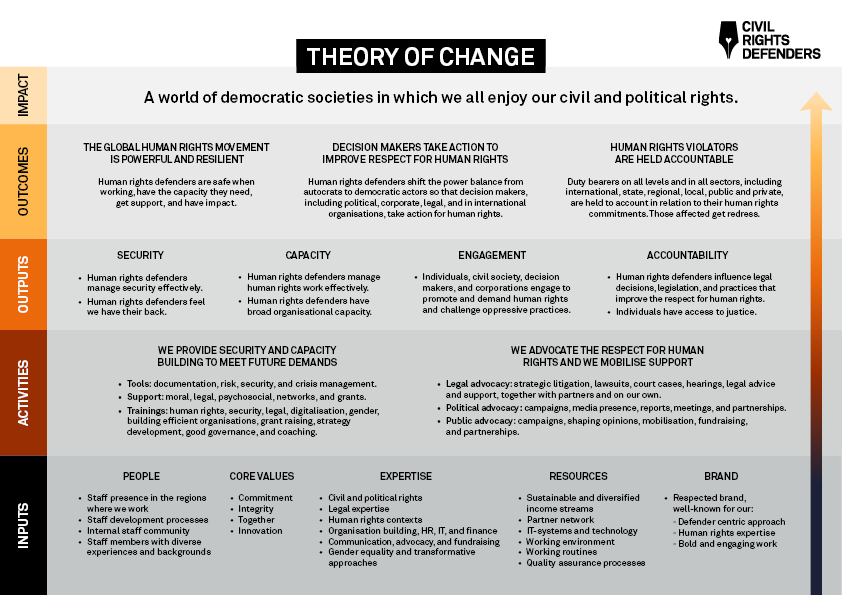 Civil Rights Defenders' Core Values
Our core values guide how we act internally towards each other as well as externally in collaborations with partners and other stakeholders.
We have four core values: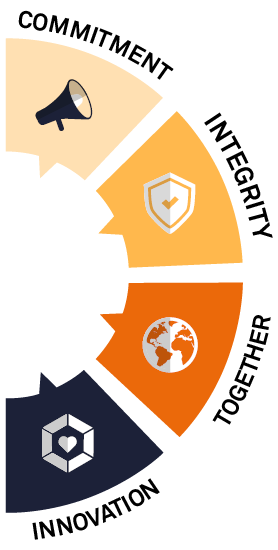 Commitment – We count on you – you can count on us.
We are dedicated to our vision and mission rooted in universal human rights. Building lasting relationships with brave human rights defenders and supporters of our cause, we are in it for the long-haul. We do not give up and we never give in.
Integrity – We stand our ground.
We are independent, and we resist undue pressure. ​We get our facts straight, always anchored in first-hand experiences and informed analysis provided by our partners. We uphold high ethical standards and use our position with care.
Together – We empower each other.​
We seek partnerships and collaborations. With mutual understanding and respect for each other, we work in a participatory and inclusive way, guided by a spirit of equality. We are only as strong as our colleagues and partners.
Innovation – We find new solutions to old problems.​
Our way of working is innovative to the core. We are proactive and bold in exploring new ways to support human rights defenders. With flexibility and creativity, we respond efficiently to emerging needs. Challenges are opportunities to learn, we make every effort to improve and be one step ahead.
Civil Rights Defenders' Strategy 2023-203
➤ Our strategy: Read Civil Rights Defenders' strategy and goals for 2023-2030 here.