About Your Donation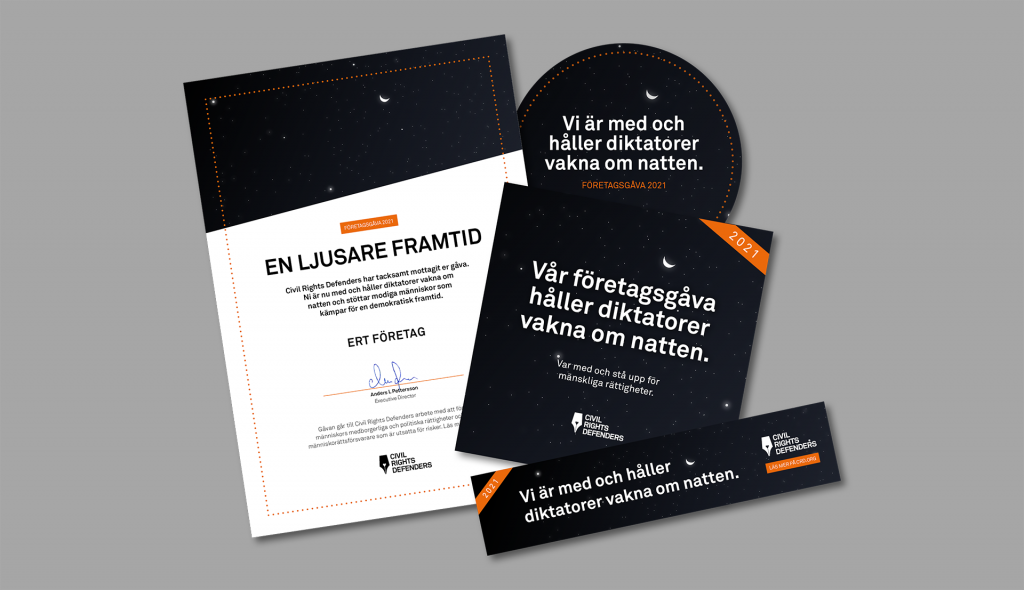 As anti-democratic sentiments gain traction around the world, it is important that those who dare to raise their voices in the fight for basic human rights and freedoms are supported. Together, we must stand up and defend democracy. Every donation counts.
Click here to donate.
As a thank you for your support, you will receive digital material that can be used to engage clients and employees as well as to share on social media platforms.
You are now part of supporting brave human rights defenders who stand up for human rights and work for a future in which corrupt leaders no longer can take their power for granted. THANK YOU!
How Your Donation Makes a Difference
The figures below serve as examples of the work that we do. In order to meet the challenges that human rights defenders face, your donation is always used where the need for it is the greatest.
5 000 SEK
Through our emergency fund, we can quickly and efficiently move people to safety. They can gain access to legal support if they are arrested or receive help to leave the country. Read more here.
10 000 SEK
We are able to provide digital security training. The ability to safely communicate with colleagues and family without being monitored or risking persecution is essential. Read more here.
50 000 SEK
Natalia Project is our most comprehensive security programme. Your support enables full protection with 24-hour surveillance of two human rights defenders and individual safety protocols for an entire year. We are ready to act 24/7 when the alarm is sounded. Read more here.
Your Donation Has an Impact
Civil Rights Defenders' fundraising is conducted with respect for the individual donor. All fundraising must be conducted in an ethical, honest and transparent way. Read more here.