"Empowering one human rights defender means empowering an entire community."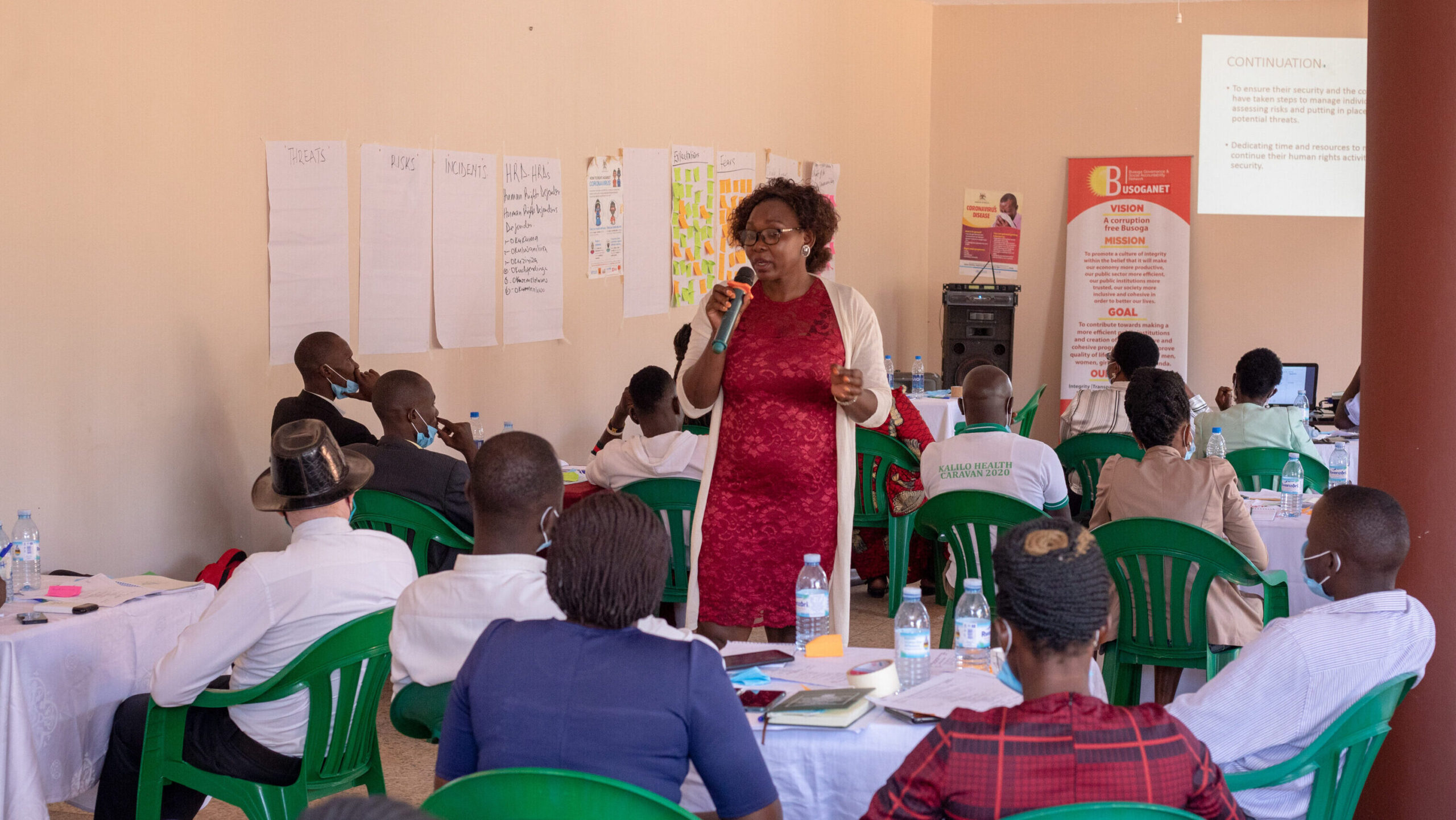 Being a human rights defender is in many parts of the world a dangerous job. Being a woman human rights defender can often be even more dangerous. Faith Namansa was tired of seeing so many women leaving her organisation, BUSOGANET, due to threats and harassments. So, she decided to act. She and her colleagues are among the 1421 human rights defenders who received support from the Emergency Fund last year.
Faith is the director of Busoga Governance and Social Accountability Network (BUSOGANET), an umbrella network of 82 grass-root civil society organisations in the region of Busoga, Uganda. It is a women-led organisation pushing for good governance in Uganda. Their vision – a society free from corruption where human rights are respected.
BUSOGANET has struggled with large knowledge and capacity gaps for a long time, primarily amongst their grass-roots human rights defenders.
"Many of our grass-root human rights defenders lack even the most basic digital and physical security knowledge. This makes them extremely exposed to corrupt officials, confiscation of their devices and falling victims to hacking, stalking and online sexual violence," Faith tells Civil Rights Defenders.
Empowering grass root human rights defenders
The general lack of know-how amongst their members on how to handle security risks and threats caused BUSAGONET to lose activists at a rapid pace.
"Most of the grass-root human rights defenders are not empowered enough to do their work. If they receive threats, they abandon their work out of fear of being arrested if they continue. This year alone, five female grass root human rights defenders have abandoned their activism due to online sexual gender-based violence"

– Faith Namansa
Faith realised they had to act quickly to help activists, especially female activists, feel safe enough to continue their work. With the help of Civil Rights Defenders' Emergency Fund, BUSOGANET could arrange a training in human rights and digital and physical security for 30 leaders of grass root organisations in the Busoga region.
"This training did not just strengthen the individuals who underwent it, it strengthened their entire organisational capacity. The female participants of the training started a coalition to empower vulnerable women human rights defenders and train them in security and capacity building. Empowering one human rights defender means empowering an entire community," says Faith.
Read more about the Emergency Fund here.