Civil Rights Defenders seeking Interpreters
Civil Rights Defenders in now seeking a professional interpretation service to enter a frame agreement to perform simultaneous interpretation English <-> Russian remotely and in-person, starting in April 2022, with the possibility of annual extensions.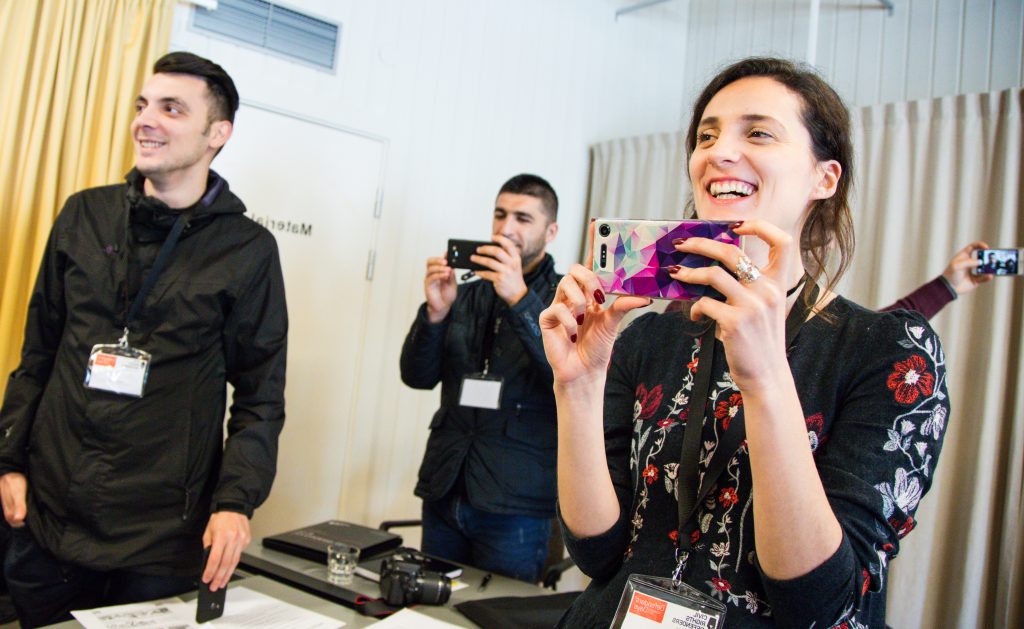 1. About Civil Rights Defenders
Civil Rights Defenders is a non-profit expert human rights organisation with over 30 years' experience of supporting civil society and strengthening human rights defenders (HRDs) in repressive countries. We defend people's civil and political rights and empower HRDs at risk in Sweden and globally. We believe a strong civil society is crucial for an independent scrutiny of government and authorities to ensure a positive development. Therefore, we combine human rights lobbying and advocacy with empowerment of our partners. Together with partners, we monitor human rights developments, demand reform, justice, and accountability. We support HRDs at risk by providing trainings, technical and financial assistance, networking platforms and peer support. Organisations that fund Civil Rights defenders are Sida, Swedish PostCode Lottery, etc.
Our Vision
A world of democratic societies in which we all enjoy our civil and political rights.
Our Mission
Our mission is to defend civil and political rights together with local human rights defenders to increase their security, capacity, and access to justice. We work as a part of a global movement of human rights defenders and partner with those at risk. Through legal means and public advocacy, we hold states, individuals, and non-state actors accountable for human rights violations. We advocate for the norms and values of the International Covenant on Civil and Political Rights and other relevant human rights standards, as we encourage people to use these rights to promote democratic societies.
We have five field offices with local head office in Stockholm, in regional offices or through stationing in Asia, Africa, Belgrade, Bogotá, Brussels, Istanbul, Pristina, Sarajevo, and Tirana. Civil Rights Defenders work with more than two hundred partners in Eastern Europe, Western Balkan, Asia, Latin America, and Africa. Every two years we bring our partners together for a large conference in Stockholm called Defenders' Days.
2. Invitation to Tender
We are seeking bids from organisations or individuals to enter a frame agreement to provide interpreter services to and from Russian during the Defenders' Days conference in October 2022 in Stockholm and for associated trainings for our partner organisations and their networks, starting in 2022, with the possibility of annual extensions. Defender' Days is a several days long conference for around 200 participants and up to 5 simultaneous working sessions. You can read more about it and see past agendas here.
Civil Rights Defenders work is led through a "defender-centric" perspective, which means that we offer trainings based on partners' needs. These trainings can be planned several months ahead but can also be requested based on emergency cases that the HRD organisations are facing. We are therefore seeking interpreters working on a consultant basis available for hybrid or remote trainings and events of different sizes throughout the year, sometimes planned for the short term. The trainings focus on different practical tools for Human Rights Defenders (HRDs) in different aspects of security, advocacy, and organisational development.
The frame agreement will specify general terms, reimbursement rates and the services Civil Rights Defenders may procure from the contractor during the agreement period. As needed for our partner support activities, Civil Rights Defenders will then procure services from our long-term contractors, under the terms set out in the frame agreement. For each training or assignment, a specific consultancy contract will be signed.
3. Profile of the Consultant
Pursuant to our core values and mission we are primarily seeking interpreters who have experience working within the context of human rights advocacy and are familiar with topical vocabulary and best practices in sensitive language. As we work with a very diverse group of partners, consultants with knowledge of LGBTI+ and feminist intersectional perspectives and related terminology are prioritised.
Required skills and experience:
Professional interpreter with working pairs English-Russian, Russian-English,
Significant experience from working with civil society and human rights related terminology,
Proven experience from working under strict requirements of security and confidentiality,
Proven experience from interpreting remotely or during mixed mode/hybrid events,
Proven experience working with sensitive and inclusive language,
Supports Civil Rights Defenders' vision and mission and adheres to the Code of Conduct.
4. Selection Criteria
Bids received under this invitation are rated on the following criteria. The percentages indicate the weight assigned to each in the overall assessment of the bid.
Price (20%)
Price is of course an important factor in our assessment of bids. Civil Rights Defenders is a non-profit human rights organisation with limited resources. However, we wish to encourage a healthy market where contractors are paid reasonably for their work, and our assessment will reflect this.
Capacity and Services (30%)
The capacity to take on assignments and the services offered are assessed together. The factors assessed include language skills, proficiency with different platforms and tools, knowledge of methods and frameworks, as well as availability throughout the contract period and ability to field up to 14 suitable interpreters per assignment.
Security (25%)
Consultant should maintain strict confidentiality regarding Civil Rights Defenders' partners and content and respect the sensitive nature of all information provided.
Suitability (25%)
We will also consider the background, environmental aspects, and previous experience of the bidders. As an organisation with a global mandate, we value diversity among our contractors.
5. How to Submit a Bid
Bids will be received until 6 March 2022. After an assessment, Civil Rights Defenders will offer one or several bidders to sign framework agreements for the services offered in their bid. 
Please see the sections above for information on the profile we seek and the evaluation criteria!
We kindly ask you to submit at most 3 pages in response to this invitation. Your bid should at least include:
A short background of you or your organisation, 
Your experience interpreting within our areas of interest (such as human rights, advocacy, digital security), specifically highlighting experience in performing remote or mixed-mode/hybrid trainings, 
A brief overview of previous similar assignments, availability of staff or freelance pool, 
Your daily rate for the services offered. 
Every qualified bid will be considered. Civil Rights Defenders does not discriminate based on race, colour, religion, gender, gender identity or orientation, genetic information, age, national origin, marital status, disability status, political ideology, or any other characteristics protected by applicable law.
Please submit your bid to defendersdays@civilrightsdefenders.org by 23:59 CET on 6 March 2022. Bids will be received in English or Swedish. 
For any questions regarding the process, send an email to defendersdays@civilrightsdefenders.org (Signal and other channels available on request). 
Any information submitted will be processed under the Civil Rights Defenders Privacy Policy.