Serbia's Anti-Discrimination Ruling in Favour of "Impuls" is Important Step for Respect of Human Rights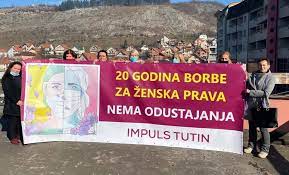 Civil Rights Defenders welcomes the verdict of the High Court in Novi Pazar, Serbia to adopt a lawsuit by 11 activists and our partner "Impuls" who were discriminated by a restaurant owner due to their assumed sexual orientation.  The court decision is an important step for the respect of human rights standards and the protection of human rights defenders in Serbia.
"Impuls", an association of feminist and human rights activists from the town of Tutin, organised the IV Festival of Women's Friendship 'It is a Women's Rebellion' on 3 August 2019. However, having booked a reservation at the restaurant 'Ras' in nearby Pazariste, the owner of the restaurant called the organisers shortly after to tell them that it was cancelled because "LGBTI+ people are not welcome in his restaurant," continuing to hurl insults and call for violence against them.  
After submitting a complaint to Serbia's Commissioner for Protection of Equality in February 2020, an opinion was issued that the Law on Prohibition of Discrimination was violated due to harassment and humiliating treatment, discrimination in the use of public premises and spaces, discrimination on the grounds of gender and discrimination on the grounds of sexual orientation. The perpetrator was ordered to send a written apology to the president of "Impuls" – though, this has not happened yet. Following the court procedure initiated by 11 activists before the High Court in Novi Pazar, the ruling determined that they were discriminated against and treated illegally.
Our Director for Europe and MENA, Goran Miletic, said that "this could be a significant case in the interpretation of human rights in Serbia, as well as the protection of human rights defenders. We are used to a climate of impunity, where smearing and attacks against LGBTI+ and other rights groups go unpunished, so this verdict is an important and refreshing step in the right direction."
We call upon Serbia's state and judicial institutions to treat other cases of discrimination in similar suit and ensure verdicts are delivered according to international human rights standards.