Uganda Election Held Amid Violence, Killings, and Censorship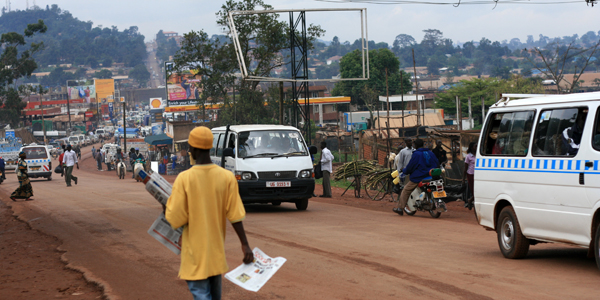 On 14 January, Ugandans headed to the polls to vote for a president and parliament. But as the run-up to the election has been plagued by violence and killings, censorship, lack of transparency, and a nation-scale internet blackout, civil society fears that the upcoming results, and the election at large, cannot be perceived as free and fair.
The two leading candidates are the incumbent president Yoweri Museveni, who has been in power for 34 years, and the parliamentarian and musician Robert Kyagulani, also known as Bobi Wine. The main opposition candidate is popular among youth and as Uganda has one of the world's youngest populations, with 75% under the age of 30, many hope that a change to the long-time rule is possible this time.
With promises of a more inclusive and representative political idea, Bobi Wine has also gained support among marginalised groups who have been ignored under the current leadership. Defending his position, however, the sitting president Museveni on his hand is arguing for the need for national security and promises a strong army, among other things.
The months leading up to yesterday's election have been plagued by violence and there are reports of at least 50 human casualties in connection with interventions by police and security forces at opposition rallies. Many of the rallies were targeted and dissolved for allegedly breaching Covid-19 regulations. Several protesters and opposition supporters, as well as Bobi Wine himself, have been arrested. This led to massive protests in many parts of the country. Civil society actors who have spoken out against attacks and disappearances of opposition politicians have themselves become targets of repression.
Nation-Scale Internet Blackout
A few days before the election day, Ugandan authorities ordered the blocking of several social media platforms. Additionally, in the evening before the election, our partner organisation Netblocks confirmed that Uganda was in the midst of a nation-scale internet blackout. Their real-time data showed how national connectivity fell from 33% of ordinary levels.
The polls closed at 4 pm local time yesterday and election results are expected to be announced this weekend. As vote counting began, Netblocks reported that internet connectivity had fallen further to just 12% of ordinary levels.
Because of the very limited monitoring possibilities, resulting from the nation-wide internet blackout and blocking of online information and communication platforms, many civil society representatives fear that the election has not been free and fair.
A Surge of Violence and Lack of Transparency
Election observers report that they have not been granted the same level of access as during previous elections. The lack of transparency has been raised by a number of our partners who expressed a need for international support to pressure Ugandan authorities to allow independent actors to monitor the elections.
The violence and killings, as well as the alleged voter fraud, targeted attacks against the opposition, censoring of communication, and internet blackout, are all examples of the authorities' low respect for Ugandan citizens' civil and political rights. We stand by our local partners at this crucial time and urge the authorities to immediately end the blackout, allow independent civil society to monitor the remaining process, and to ensure a free and fair election.
---