EU Ambassador to Serbia Concludes 'Who Defends Defenders' Project in Belgrade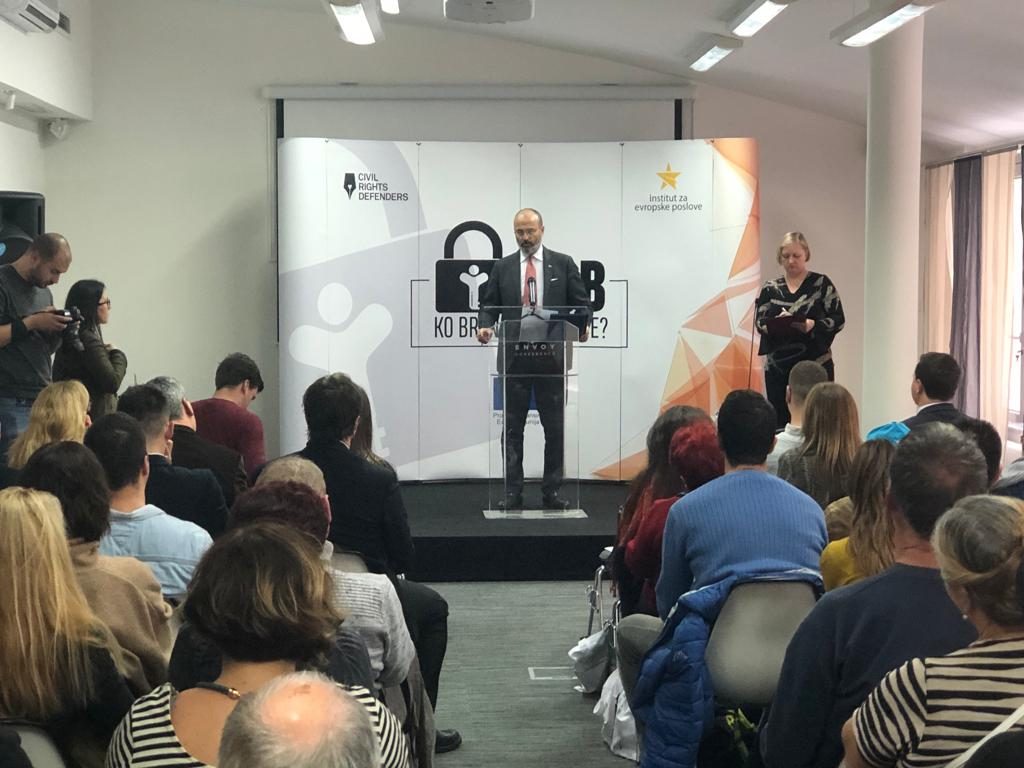 On Tuesday 27 November, the EU's Ambassador to Serbia, Sem Fabrizi, brought to close the final conference of the 'Who Defends Defenders' in Belgrade.
Financed by the EU and co-organised by Civil Rights Defenders and the Institute for European Affairs, the project had as its core aim to protect and empower human rights defenders and organisations in dealing with the surging threats and attacks they face in their work in Serbia.
Over a two-year period, a number of activities and projects were launched within 'Who Defends Defenders". These included providing free legal aid to 12 organisations and HRDs undergoing court cases, conducting safety assessments and trainings for 14 organisations, producing a detailed 48-page security guidelines handbook, and organising public sessions to address the importance of defending human rights.
Regarding the latter, we organised debates and roundtables in five cities across Serbia (Novi Sad, Subotica, Novi Pazar, Kragujevac, Nis), bringing together local human rights organisations and journalists with experts in the field of digital and physical security.
Attacks and smear campaigns against HRDs and journalists have been on the rise in Serbia in recent years. In smaller communities in particular, defenders are often left to fend for themselves without protection from authorities.
Civil Rights Defenders' Regional Programme Assistant, Najra Isakovic commented "the importance of such initiatives for human rights organisations and independent media which work in smaller towns and cities is immeasurable. Our impact in these communities is two-fold; not only does it help develop their capabilities to deal with rising threats, but the very fact we are bring a platform for dialogue and debate to their towns, provides a rare opportunity for defenders and journalists to share experiences and empower one another."
At the final conference, organisations which participated in the project were handed equipment that would contribute to their physical and digital security, such as office alarms or anti-virus products, other according to their needs.