Ahead of Elections, Putin Tightens Grip on Russian Media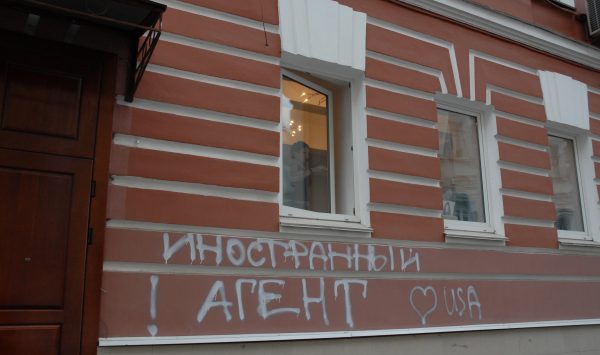 Russian President Vladimir Putin has signed into law new legislative amendments targeting the independent media and fostering media censorship. Civil Rights Defenders strongly condemns the intensified attacks on free expression, and urges Putin and his government to reverse course and to stop its clampdown on media freedoms. As a first step, Putin should revoke the new law which is contradictory to the Russian Constitution Article 29, guaranteeing freedom of expression and explicitly banning censorship.
The bill was signed into law on Saturday 25 November after having been rushed through the pro-Kremlin parliament and unanimously approved by the upper chamber on 22 November, broadcaster RFE/RL reported. Local experts and human rights defenders whom Civil Rights Defenders have spoken to describe the amendments as both unconstitutional and repressive.
"This very unclear law is, as a whole, a clear violation of human rights. There is absolutely no clarity and no certainty, and the provisions include more questions than answers", said Natalia Taubina, head of Public Verdict, one of Russia's leading human rights organisations.
According to a text on the government website, the new legislation vastly broadens the list of information banned for distribution online, and allows the authorities to label foreign media outlets as so-called "foreign agents" – a term which in Russia historically is seen as synonym to spies.
"The new restrictions effectively limit access to information for all Russian citizens and pose a threat to our colleagues, including those representing international news outlets. This is especially disturbing ahead of the March 2018 presidential vote, and we urge president Putin to recall his signature from the law," said Joanna Kurosz, Programme Director for Eurasia at Civil Rights Defenders.
The amendments further open up for blocking websites that spread information about "undesirable organisations", through the vaguely phrased ban on "information materials on foreign or intergovernmental organisation whose activity is designated as undesirable". Since May 2015, when the law on undesirable organisations was adopted, the Russian justice ministry has blacklisted eleven organisations, primarily international donor organisations. Cooperation with the listed organisations can lead to exorbitant fines and an imprisonment.
"If any information about an "undesirable organisation" is found on a website, the general prosecutor can demand without court decision that access to the site is blocked. It would not matter if the information was placed there ten years ago. This means that the law is retroactive", said Taubina.
Another confusing amendment to the same law is to replace the detailed categorisation of what is banned for publicity – specifically "information containing calls to extremist activity, participation in mass (public) events held in violation of established order," – with a vaguely worded line of "information distributed in violation of a Russian law." It is unclear which law the lawmakers had in mind, and whether only publication of calls to extremism and participation in unsanctioned protests can result in penalties and other state sanctions. According to Russian experts and Civil Rights Defenders' research, laws containing vague language are often widely interpreted and abused by the authorities.
"The use of vaguely phrasing and unclear meaning is a common trend in Russia and it creates possibilities for different interpretations and arbitrary use. There is no need to work through laws as they will be implemented arbitrary anyways," said Taubina.
The amendment to the media law has expanded the notorious list of "foreign agents" to include "foreign-based entities or persons who receive foreign funding and engage into publication and distribution of print, audio, video, and or other informational materials".
"Looking at how the law on foreign agents is implemented, this law creates a huge possibility for arbitrariness", continued Taubina. "It will no doubt be used as a tool to pressure critical voices and the independent media".
Russia has until now used the 2012 Foreign Agents Law against local non-profits and human rights organisations that receive foreign grants. Foreign-funded NGOs who engage in unspecified political activity are required by the Russian justice ministry to register as foreign agents. Those who do not comply face exorbitant fines and potential termination. On Wednesday 29 November, according to news reports, lawmakers introduced a bill on penalties – with up to 5 million Rubles, (approximately 85,700 US Dollars) – for those noncomplying with, or breaching, the new law. It is unclear how Russian authorities plan to enforce the new media law provisions against foreign news outlets or bloggers.
Speaking to the media on Sunday, Maja Kocijancic, EU spokesperson for foreign affairs, condemned the amendments and said that the foreign agent legislation goes "against Russia's human rights obligations and commitments" and that the extension of the law is "a further threat to free and independent media and to access to information, and yet another attempt to shrink the space for independent voices in Russia".
Russian government officials have openly indicated in the interviews to the press that their decision to expand the list to the media is just a symmetric response to the U.S. government's demands for the Kremlin-funded broadcaster Russia Today to register as a foreign agent.
News reports have stated that Russia is going to use the new law against the U.S. government funded broadcasters Radio Free Europe/Radio Liberty and Voice of America, as well as their Russian services and affiliated news websites and channels. U.S. law enforcement agencies have in turn looked into the operations of, among other, the Russian government funded satellite TV channel RT. In October, RT complied with the U.S. FARA act, which requires that foreign government-funded organisations who engage into lobbying and spreading information on behalf of their principal on the US territory register as foreign agents.
Adding to the worrying news, the government media regulator, Roskomnadzor, has developed a legal mechanism that would allow the regulator to withdraw foreign news outlets' license to distribute printed media with less than a month's notice. The business daily Kommersant reported that foreign media would be stripped of their license if the regulator agents find media in breach of Russia's vague anti-extremism laws or suspects that it abuses its media freedoms. The latter includes publication of information banned by Article 4 of Russia's media law, such as state secrets, information containing pornography or violence, use of slur language, children's personal info, among other.
The increasingly shrinking space for freedom of expression, including media freedoms, is a result of the repressive course Putin's government has been pursuing against domestic and international critics. The extensive amount of restrictions demonstrates the Kremlin's complete lack of interest in living up to its international obligations. Civil Rights Defenders strongly condemns this new set of amendments and urges Russia to reverse course and to stop its clampdown on media freedoms.
---
An overview of state of freedom of expression in Russia, can be found in Civil Rights Defenders´ 2016 report Putting the Lid on Freedom of Expression in Russia. In the report, we provide detailed information about repressive legislation adopted since Putin returned to office in 2012. Earlier this year, the New York-based Human Rights Watch published its own report that corroborates our findings, and provides a detailed list of attacks on the free expression online and offline, including explicit attacks against reporters, media companies and newsroom, bloggers and ordinary citizens aimed at curbing freedom of speech.