Repression Against the Media Continues in Serbia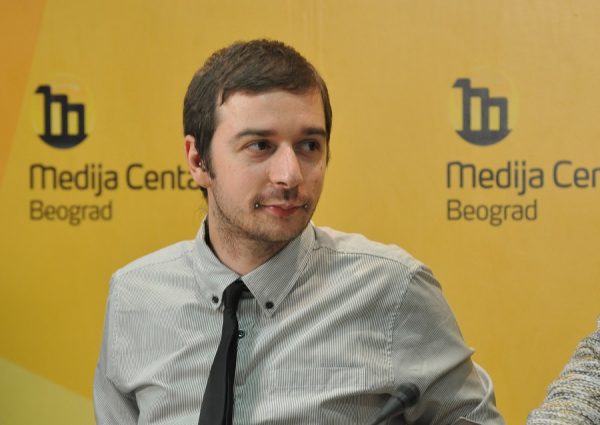 Last week, Alexander Vucic emerged as victor in Serbia's presidential elections winning 54.9% of the vote. As Serbia's Information Minister in the 1990's he was instrumental in censoring media outlets and journalists while serving as the Chief Propagandist during the reign of Slobodan Milosevic, the mastermind behind much of the atrocities in the former Yugoslavia.
Freedom of the media in Serbia has seen a significant change in its trajectory since 2010, from being categorised by many watchdog organisations as being "on a good path to becoming free and independent" to the current situation of instability. There is now almost a total collapse in freedom of expression with pro-government media outlets spewing out propaganda targeting human rights defenders on trumped up allegations of destabilising the state.
"In this type of atmosphere any organisation working on investigating corruption, accountability of state mechanisms or cases of discrimination against minority groups or the government are automatically blacklisted and their work and findings made null and void," said Goran Miletic, Director for Europe, Civil Rights Defenders.
Biased information is confusing and scaring people. Human rights defenders and journalists who are accused of acts against the state are deprived of their rights especially protection from propaganda and hate speech as their faces appear on TV shows and newspapers where they are portrayed as criminals trying to undermine the country.
According to KRIK a Serbian investigative portal and a partner of Civil Rights Defenders since 2016, corruption in the country is rife as can be seen from the absolute control over the media by the Serbian authorities to publications in main stream media, especially when it comes to investigative articles criticising the regime.
For example, KRIK's Editor, Stevan Dojcinovic has been the target of numerous smear campaigns that have been launched against him and his organisation by pro-government media outlets.  He has been placed under surveillance by state security agents who have supplied materials regarding his private life to tabloids. Each time KRIK releases an investigative report alluding to corruption in the government the authorities launch smear campaigns against Dojcinovic and accusations relating to the credibility of KIRK.
Numerous journalists are worried about how Vucic's will pursue efforts to affect freedom of expression in an already rapidly deteriorating landscape. Many are of the opinion that little, if anything has changed in Serbia, when it comes to censoring the media and stifling journalists work. Harassments and intimidation are regular features in the tactics used by state instruments to silence and influence journalists.
Scapegoating human rights defenders and journalists has always followed the same methodology. First the tabloids enforce smear campaigns against the organisation or individual, accusing them of being foreign agents working against the State. After a number of such articles, a public official repeats this type of allegation and confirms the previous stories from the tabloid. As a result of this, right wing organisations or individuals take matters into their own hands often posting threats, initiating harassment tactics or even physically attacking these so called "enemies of the state".
While the office of the presidency is mainly ceremonial, Vucic has stated that he would resign as Prime Minister should he win the elections but this would still allow him to consolidate power over most of Serbia's institutions, including the Parliament and ruling party.
---
For more information, please contact: 
In Belgrade, Goran Miletic (English, Serbian) at goran.miletic@crd.org.