Stockholm Pride – A Time to Show Solidarity and Support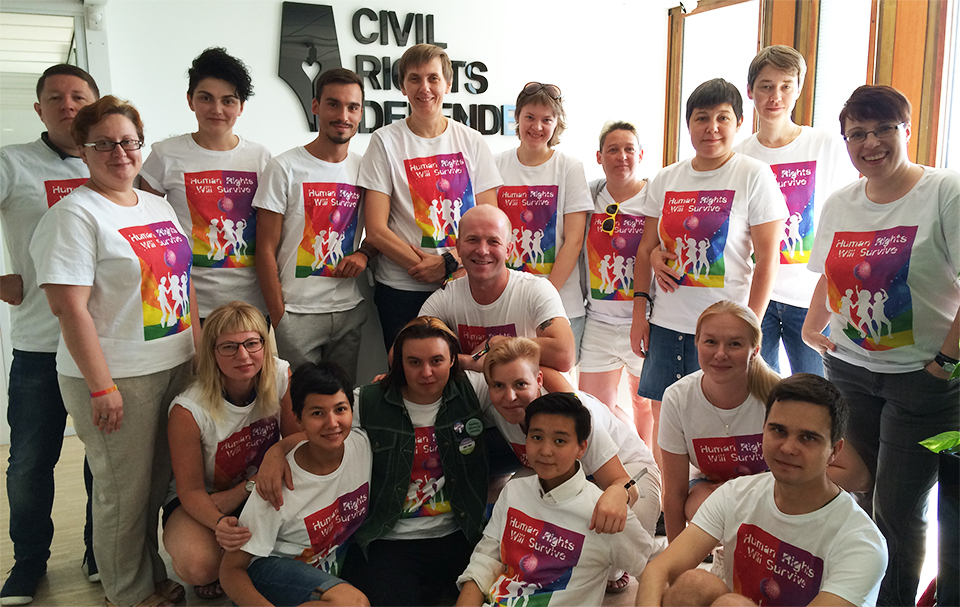 This week, thousands of people gather in the capital of Sweden to take a positive stance against discrimination toward LGBT people, and to celebrate dignity, equality, diversity and human rights. While the concept of Pride is widely recognised in many parts of the world, the acceptance is not.
Homophobia and widespread harassment against LGBT communities are common features in numerous countries. In order to draw attention to the environment our friends and colleagues are forced to work in, Civil Rights Defenders is glad to welcome LGBT activists from Belarus, Russia and the Western Balkans to this year's Stockholm Pride.
22 years have passed since Belarus decriminalised homosexuality, but homophobia remains an entrenched problem in the country. Discrimination against the LGBT community frequently manifests as violence, harassment and threats, and the situation for LGBT activists is characterised by legal uncertainty resulting in a high degree of self-censorship.
"We accustom ourselves to limit our means of expression, words, methods of activism. This self-censorship becomes a part of the personality", says LGBT activist Natalia Mankouskaya.
Neighbouring Russia follows a similar path, paved with violations against the LGBT community. The situation has deteriorated even further since Vladimir Putin was reinstalled as president, a return accompanied with an unmistakable trend of repressive legislation affecting LGBT people.
"Homophobia, transphobia and cisheterosexism seem to be inevitable in a country with a tremendous history of violence, a cult of masculinity, a culture of prison camps, where fear and aggression toward those differing from the majority and marginalised has become, in the last years, a government-supported trend", says Jonny Dzhibladze from Coming Out Initiative Group.
As late as in June, the Kremlin adopted a law on "preventive measures that can be held by the police against those who violate the public order and keep an antisocial and immoral lifestyle". According to Vinnichenko Tatyana, Chair of the Russian LGBT Network, LGBT people will automatically fall under these categories.
"The police will keep lists of LGBT people and conduct preventive work with us. Putin's regime pushes LGBT organisations and LGBT people out of the country", says Tatyana.
Self-censorship following threats of persecution and vaguely worded laws and regulations not only curtail freedoms of expression and assembly, but also deeply affects LGBT activists' personal lives. Couple, parents and LGBT activists Alexandra and Irina from the Russian LGBT Network have lived under constant stress since they became involved in LGBT activism, not least due to the vulnerability of their child.
"We both work in LGBT organisations and advocate publically. As a result, we are forced to 'hide' our child as much as possible and make sure that no pictures appear in social networks. We can not publically be proud of our wonderful child", says Alexandra and Irina.
Fear and isolation, homophobia and threats are however not exclusive to strictly controlled Russia and Belarus. Inadequate protection for LGBT communities is a prominent issue also in other conservative European states, not least in the Western Balkans. For example, according to a recent study financed by Civil Rights Defenders, 21 percent of the total population of Kosovo believe that "homosexuals are no better than criminals and should be severely punished".
"In Kosovo, patriarchy is what drives society and everything that does not complement heteronormativity is almost immediately shunned and seen as unacceptable", says LGBT activist Blerta Morina.
The widespread homophobia permeates the region as a whole and the LGBT community endure serious discrimination, harassment and various forms of violence. However, assaults are rarely dealt with in court due to poor implementation of anti-discrimination legislation.
"The best example of this is hate crime – the prosecutor's office has to this day not recognised a single case of violence as hate crime since it was introduced to the Criminal Law in 2012", says Serbian LGBT activist Kristina Kastelac.
This week marks the nineteenth Pride week in Stockholm, where celebrations occur under more liberal circumstances. Civil Rights Defenders is ready to embrace the festivities, but stresses on the other hand the importance of remembering all of those who fight hard for their rights in much more conservative societies.
"It is important to remember that LGBT rights are widely unrecognised in other parts of the world and the struggle to improve the situation implies threats and great hardship. We are delighted to be able to welcome our friends and colleagues from Russia, Western Balkan and Belarus who work tirelessly to bring about change in their home countries. To bring these brave activists here during Pride and march together in the parade is very important for showing solidarity with, and support to, their struggle", says Cecilia Rosing, Programme Officer at EURASIA Department at Civil Rights Defenders.
This Saturday, we march to highlight the long journey that lies ahead, but also to celebrate the many achievements and positive changes that have taken place as a result of the hard work conducted by LGBT activists and human rights defenders.
"This may sound dramatic (and it definitely is); even this situation has a good side. The hard times we are going through have had positive side effects. The community has become stronger, more empathic and kind to each other, unified, mobilized, and ready to defend itself. We have a huge way to go, and I am happy to be part of this journey" – Jonny.