Smear Campaigns Must Stop Against Investigative Journalists in Serbia
Civil Rights Defenders strongly condemns the latest smear campaign being used by pro-governmental media in Serbia against investigative journalists and urges the authorities to ensure respect for freedom of expression and refrain from interfering in the work of independent media in Serbia.
The latest campaign instigated by a pro-governmental media outlet has targeted the Editor-in-Chief of the Crime and Corruption Reporting Network (KRIK) with the sole intention of intimidating and preventing journalists from doing their job.
While an open campaign of intimidation against investigative journalists has been ongoing, it intensified in late 2015 with the publishing of a "wanted-list of photos" of Editors-in-Chief of investigative portals on the front page of pro-government media.
Such campaigns have coincidentally correlated with the publishing of stories by investigative journalists regarding the involvement of members of the ruling parties in corruption and unlawful acquisition of property, such as – the alleged connection of the Heath Minister with the mafia and also an alleged hidden property belonging to the Mayor of Belgrade.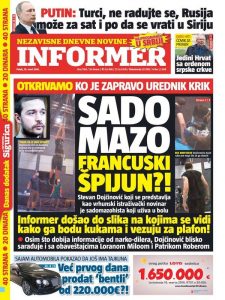 "In a country with a long list of un-investigated and unresolved attacks on journalists (sometimes fatal) it is dangerous to label journalists as mafia collaborators. Particularly disturbing is the fact that the campaign was initiated by the the act of current journalistic research and not an actual published story, which indicates that someone monitors the work of KRIK. This is an intolerable situation and must immediately stop", said Goran Miletic, Programme Director for the Western Balkans at Civil Rights Defenders
On the same day the Ombudsman announced that there is clear evidence that several members of the opposition parties have been stalked by the secret military service, and a photo containing the KRIK, Editor-in- Chief walking along with his source appeared on the front page of a tabloid, indicating close cooperation of this pro-governmental media with the members of the secret service. This sends an intimidating message to all independent journalists.
Civil Rights Defenders is deeply concerned by the ongoing campaign to silence human rights defenders and journalists in Serbia and urges the authorities to immediately facilitate an atmosphere in which independent voices can be freely heard and completely free from threats and harassment.