Threats and Attacks Against Human Rights Defenders in Vietnam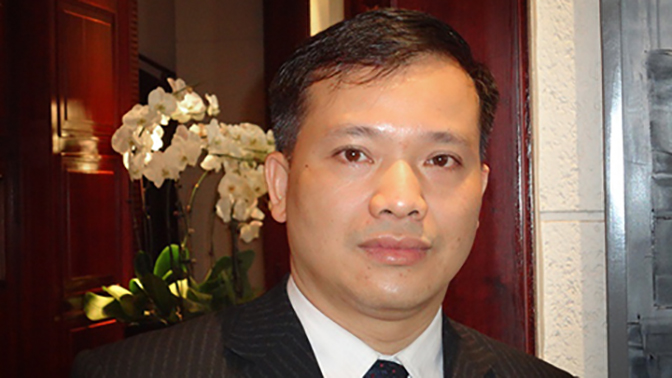 In the morning of 30 January 2015, two unidentified men came to human rights lawyer Nguyen Van Dai's apartment in the capital Hanoi, violently broke the front door and threatened to burn his home and assault him. Nguyen Van Dai is a prominent human rights lawyer and pro-democracy activist in Vietnam, and one of several human rights defenders who have been attacked in recent weeks. He reported the incident to the local police.
Nguyen Van Dai has been a target of persecution, including arbitrary detention, ever since he co-founded a human rights group in 2006. He is currently under house arrest in Hanoi, due to end in March, after serving out a four-year sentence.
"The attack on lawyer Dai and the serious threats against him highlights the risks facing Vietnamese human rights defenders," said Marie Månson, Human Rights Defenders at Risk Programme Director, Civil Rights Defenders.
The latest attack on Nguyen Van Dai came just days after a violent assault on 12 bloggers and activists by plainclothes agents in Thai Binh province. The assault took place when the group of activists were stopped by police following their visit to a recently-released political prisoner.
The same week in Ho Chi Minh City, activist and Mennonite Pastor Nguyen Hong Quang, one of Dai's former clients and a former political prisoner, was injured and hospitalised after an attack with bricks and clubs by a group of thugs. Another pastor who was with him at the time received minor physical injuries.
On 9 December 2014, a group of people stopped vocal blogger Nguyen Hoang Vi in the street near her home, pulling her by the hair and punching her. Security forces nearby reportedly did not intervene. A network of women human rights defenders has begun documenting attacks, including sexual harassment, against women human rights defenders. Nguyen Hoang Vi has been the victim of numerous attacks in recent years.
In November, police officers assaulted and injured Truong Minh Duc, a former political prisoner, freelance writer and reportedly a member of Independent Journalists Association of Vietnam. He narrowly escaped death in the attack, which took place outside Ho Chi Minh City.
None of the perpetrators in these attacks on peaceful activists and others have been brought to justice, further compounding the vulnerable situation of the human rights defenders.
"The on-going impunity for attacks on defenders is a disturbing reminder that Vietnam's portrayal of its human rights record to the international community bears little resemblance to reality. Human rights defense and human rights education contribute to social progress and stability, and those who carry out the work deserve protection and recognition, not persecution and reprisal," said Marie Månson.
Incidents of violence and threat against human rights defenders conflict with Vietnam's international human rights obligations as well as the commitments it made last year at the UN's Universal Periodic Review to implement 182 recommendations from other governments, including to:
Protect and guarantee respect for freedom of information and expression, particularly for journalists, bloggers and human rights defenders, and undertake a review of legislation governing the press to ensure its compliance with international standards (Luxembourg);
Ensure a favourable environment for the activities of human rights defenders, journalists and other civil society actors (Tunisia);
Further enhance efforts to develop the human rights education system and to strengthen a culture of human rights (Uzbekistan); and
Strengthen human rights education to ensure that the population is better informed (Djibouti).
Background
A co-founder of the Vietnam Human Rights Committee, lawyer Nguyen Van Dai is a vocal supporter of democratisation and had prior to his prison term provided legal defense to dissidents, members of Protestant churches facing state threats, and government critics. During the Asia-Pacific Economic Cooperation (APEC) summit in Hanoi in November 2006, State security officers cordoned off his home and placed him under virtual house arrest. Less than four months later, in March 2007, Dai was arrested for teaching human rights to students at his law office in Hanoi. His fellow human rights lawyer and co-founder of the Committee, Ms Le Thi Cong Nhan, was also arrested.
They were both tried in May 2007 for "conducting propaganda against the Socialist Republic of Vietnam" under article 88 of the Penal Code and sentenced to five and four years in prison, and four and three years' house arrest, respectively. Nguyen Van Dai's sentence was reduced by one year on appeal in November 2007.