Police Violence Against Protesters Must Be Investigated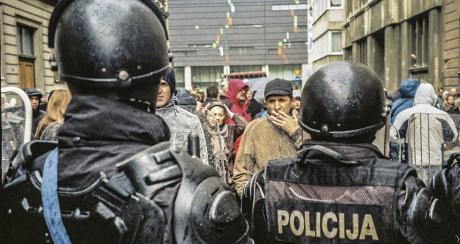 Authorities in Bosnia and Herzegovina must investigate the recent police violence perpetrated against protesters on the streets of Tuzla and Sarajevo and those who ended up in detention as a result. Protests broke out in Tuzla on the 5th February and by the 7th had spread across the country. The most violent protests took place in Sarajevo. Civil Rights Defenders are currently assisting those caught up in the violence.
Civil Rights Defenders representatives, Sumeja Tulic and Natalija Bratuljevic, are in Sarajevo monitoring the events and interviewing protesters, detainees and participating journalists and are identifying the best ways to assist those whose rights have been clearly violated.
Initially the protest were organised by workers in Tuzla who were laid off without receiving their salary entitlements when agreements to privatise several companies were finalised. After six months of peaceful demonstrations, 5th February marked a watershed as demonstrators attempted to enter municipality buildings in Tuzla and violence broke out between them and the police.
Civil Rights Defenders strongly calls on the authorities in Bosnia and Herzegovina to immediately investigate the use of excessive force against demonstrators on the streets and those who ended up in detention.
Civil Rights Defenders are also concerned about reported cases of intimidation and threats by individual law enforcement officers against protesters, members of plenum and journalists. The Court has also ordered the media to deliver raw footage from the demonstrations in order to identify protesters so they can press charges against them. It is also reported that police authorities are randomly stopping and asking people for ID's with the sole intent of intimidating the local population.
Several individuals, including two minors reported extreme police brutality while being arrested and during their incarceration in detention centers. Civil Rights Defenders are currently in the process of identifying the best possible legal avenues to assist these people and their families so they can access their rights and obtain legal recourse.
Civil Rights Defenders want to remind the authorities that it is their duty to independently investigate these cases and bring those responsible to justice. And that it is their obligation to fully respect the right to peaceful assembly and expression, guaranteed by the Constitution, as well as the European Convention of Human Rights and International Convent of Civil and Political Rights that Bosnia and Herzegovina has signed and ratified. Civil Rights Defenders will continue to monitor the demonstrations and document any further violations and abuses.