Serbia Must Protect the Rights of Asylum Seekers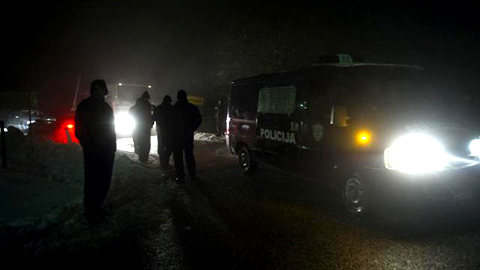 Extensive and violent protests erupted in Serbia when local authorities in the cities of Obrenovac and Vracevic decided to give 200 asylum seekers temporary winter accommodation in dormitories, as a result of freezing temperatures gripping the country. Aggravated citizens blocked the road leading to the accommodation facilities and one of the dormitories was set on fire. The local authorities decided to relocate the asylum seekers.
Civil Rights Defenders strongly condemns the lack of reaction from the police and the Refugee Commissariat and the failure to protect the asylum seekers. The organisation further demands that sanctions be implemented against representatives of the local authorities due to offensive statements regarding the asylum seekers.
"Although the institutions, and especially the police and the Commissariat for Refugees, have utterly failed in this case, they can still salvage some integrity by enforcing laws and international standards. We expect responsibility. Nothing more and nothing less", says Goran Miletic, Programme Director for the Western Balkans.
The asylum seekers' living conditions were unlivable, with many of them having camped out in the local woods for three days. The original strategy was to house these asylum seekers in dormitories at the Nikola Tesla B power plant in Obrenovac but the decision was met with extensive resistance from locals in the area.
Protesters put up a road block leading to the dormitories and refused to move declaring that they would not leave the site until the housing-plan for the asylum-seekers was called off. Later that evening one of the dormitories was set on fire and fire fighters were called to the scene. One person was taken into custody on suspicion of arson.
These events have led to local authorities deciding that the asylum-seekers should be relocated to avoid further trouble. During the protests, local authorities tried to justify their position to relocate the asylum-seekers by stating that their decision was due to "fear of violence and possible power failures" if they pushed the issue.
After the protests, the asylum-seekers were temporarily placed in the Hotel Obrenovac, where they are still waiting for the Serbian government to decide on a more permanent solution to their housing problems.
"By denying the right of temporary accommodation to asylum-seekers the authorities in Obrenovac are in serious breach of their commitments to international conventions and Serbian Law on Asylum. The right to asylum is guaranteed to refugees, whose status is defined by Article 1 of the1951 Refugee Convention," says Goran Miletic.
---
According to several estimations, there are about 4000 asylum seekers in Serbia, most of them in transit from Asian and African countries. Serbia has only two shelters intended for asylum seekers.