Natalia Project – About the alarm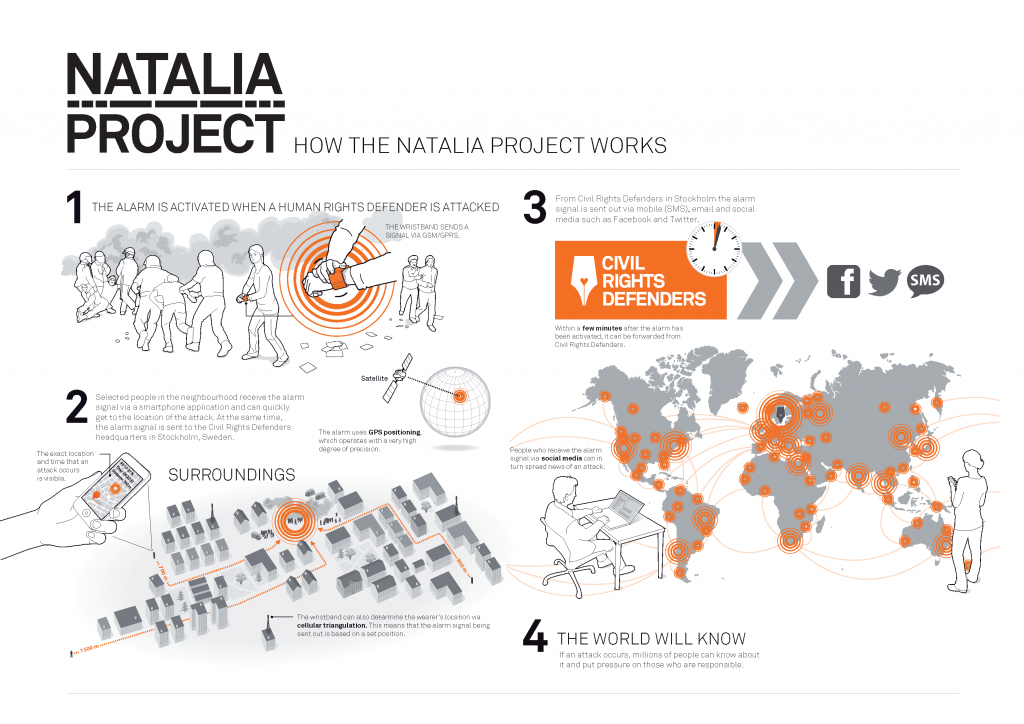 The Natalia Project is a security system developed for human rights defenders at risk, where each participant is equipped with an alarm device. In the case of an attack, the alarm is activated and a distress signal goes off.  
The alarm is activated when a human rights defender is attacked.
Selected people in the neighbourhood receive the alarm signal and can quickly get to the location of the attack. At the same time, the alarm signal is sent to the Civil Rights Defenders headquarters in Stockholm, Sweden.
From Civil Rights Defenders in Stockholm, the alarm signal is sent out via mobile (SMS), email and social media such as Facebook and Twitter.
The world will know. If an attack occurs, millions of people can know about it and put pressure on those who are responsible.
A personal assault alarm
GPS and GSM technology work together to inform the world exactly when and where a person is attacked.
Tested and approved
The alarm has been developed and is tested to make sure it works even in the most demanding situations.
Tampersafe
The lock is designed to send out a distress signal if it's tampered with. The signal alerts the person on watch at Civil Rights Defenders, and he or she will immediately take action.
Connected
Once activated, the supporters of Natalia Project will let the world know instantly.
The alarm works with several technological platforms to ensure that the signal for help gets through to everyone, regardless of where they are in the world.
Protocol
Each bearer has an individually tailored protocol for security. Knowing how to act to reduce elements of risk is elementary.