Internships – Legal Department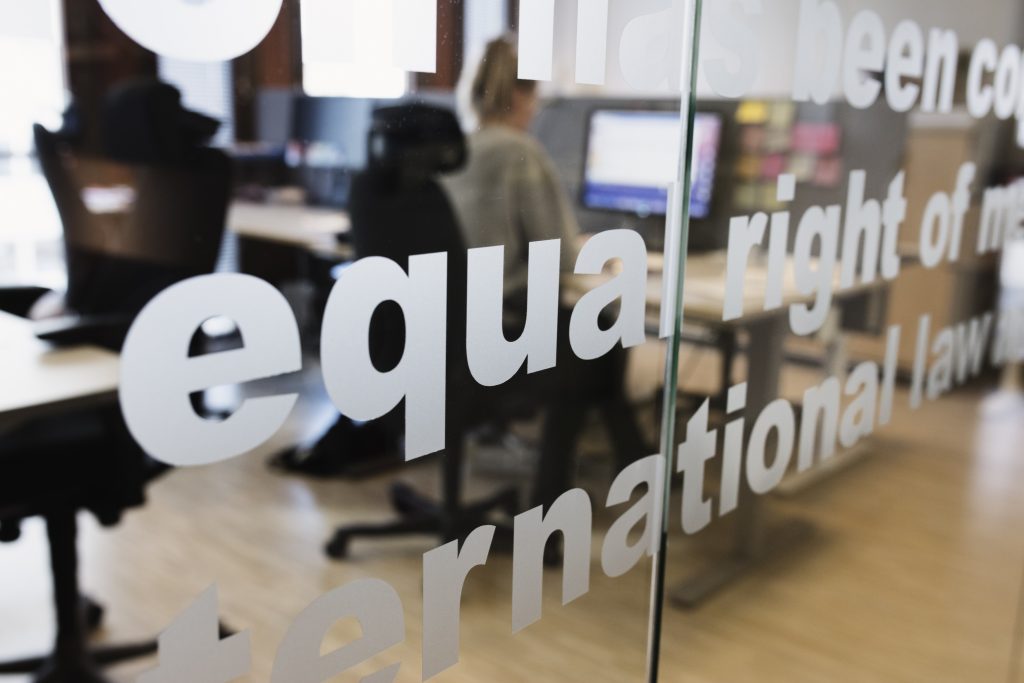 Do you want to promote human rights in Sweden and globally? Are you interested in learning how law can be used to hold human rights violators accountable? We are now looking for interns to the Legal Department.
Civil Rights Defenders is an international human rights organisation defending civil and political rights. The Legal Department works to protect human rights in Sweden and globally. Our work in Sweden is mainly focusing on areas such as discrimination, hate crimes, Sami rights, rights while in detention, and asylum law.
Tasks and Opportunities
From the spring semester 2022 Civil Rights Defenders will be working together with Stockholm University to provide three individuals the opportunity to participate in an internship focused on international criminal law in a Swedish context. As an intern, you will assist the department in their daily work to protect human rights with a focus on monitoring and analysis of ongoing Swedish trials with an international element. While the trial monitoring will require excellent proficiency in Swedish, the reporting and analysis will be done mainly in English.
You may also become involved in our other Swedish and international work. The tasks are varied and include legal research for ongoing legal and international processes, assisting the public with legal advice, and contributing to the planning and organising of our activities and events in Sweden and abroad. You will work closely with our Legal Director and Legal Advisors in Stockholm. The work also includes advocacy work in Sweden.
During the internship, Civil Rights Defenders will offer opportunities to take part in external events, seminars and meetings and will also arrange internal workshops on relevant topics within our field of work. The focus of the internship will be adapted depending on your skills. You will have a supervisor to help, guide and train you during the internship. Successful applicants are expected to have progressed sufficiently through a Swedish legal education (or equivalent degree) to have a basic understanding of criminal law and procedure as well as public international law, and are encouraged to enroll in the course "Juridik och praktik" at Stockholm University.
Desired profile
We are looking for interns with the following qualifications:
Is close to finishing or has recently finished a Swedish law degree (all mandatory parts up to term 5 must be completed).
Good knowledge of speaking and writing in Swedish and English.
In addition, any of the following qualifications would be an asset:
Have completed at least one course focusing on human rights, public international law, international criminal law, or any other area relevant to the work of the department.
The ability to work independently and responsibly. 
Experienced in communication, writing articles, reports, research, social media, advocacy campaigns or grassroots communications.
Experience in a civil society organisation, whether local, regional, national or international, is considered a merit.
A genuine interest in human rights and a basic knowledge about the issues that Civil Rights Defenders works with.
Civil Rights Defenders only accepts interns who have an internship as part of their formal education, if the internship is part of studies or follows in direct conjunction with finalised studies or if it is part of a programme related to a public employment service. The internship is unpaid, however local transport costs during the internship period are covered (SL card purchase). Please note: Civil Rights Defenders is unable to assist with the Schengen visa.
Application
The internship, which is located at our head office in Stockholm, starts in January 2022 and runs until the beginning of June 2022. The application must be written in Swedish and include a cover letter, resume and a writing sample from within the context of your education (ideally in English, or alternatively the cover letter can be written in English accompanied by a writing sample in Swedish – max one page). The writing sample may be an excerpt from a longer text. Please send your application to John.Stauffer@civilrightsdefenders.org and sally.longworth@juridicum.su.se as soon as possible, but no later than 15 December 2021. Please write "Internship Application" in the subject line. Interviews will be conducted on an ongoing basis, meaning the position could be filled ahead of the deadline.