Civil Rights Defenders is looking for a Communications Officer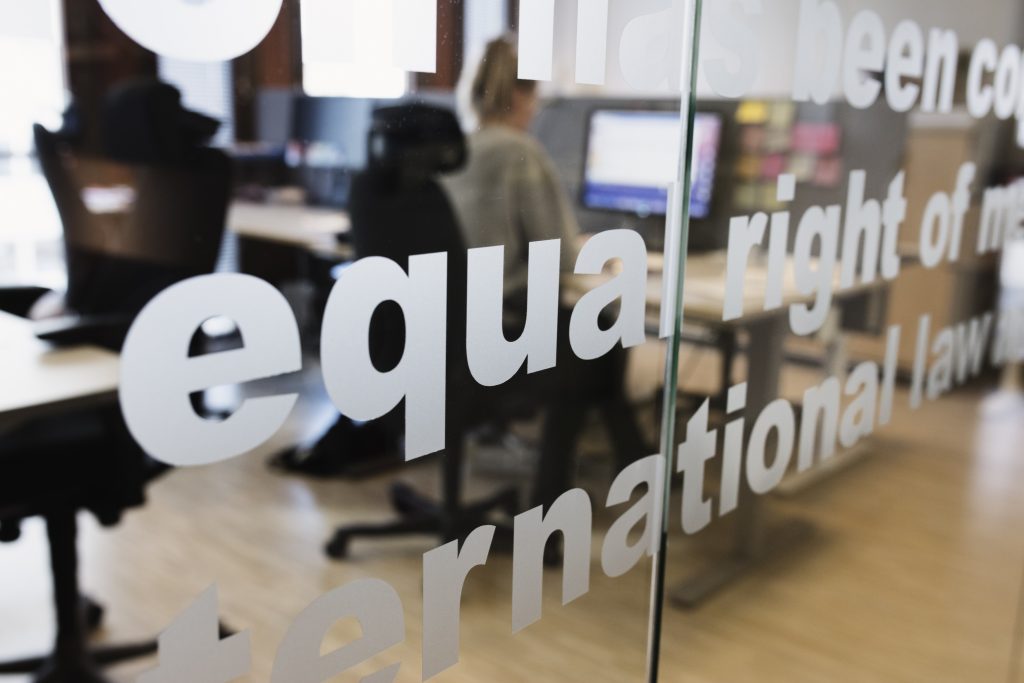 Are you a skilled communications officer who wants to work for human rights in Sweden? Then you might be the one we are looking for. 
About us
Civil Rights Defenders is a politically and religiously independent international human rights organisation based in Sweden. Our main mission is to defend people's civil and political rights and support human rights defenders worldwide. We work in Sweden and in some of the world's most repressive regions. Through advocacy, litigation, and public campaigns, we advance and inform about people's rights globally.
For a few years now, Civil Rights Defenders has been working to promote human rights protection for people in detention, compulsory care and locked institutions in Sweden. Regardless of why you are being detained, you should be guaranteed your human rights.
During a three-year project from Allmänna Arvsfonden, we will develop methods and tools to systematically review and analyze the human rights situation in Swedish compulsory care, detention centers and other locked institutions as well as advocate, inform and communicate about these rights and violations. Now, we are looking for a Communications Officer for this project.
Areas of Responsibility
As a Communications Officer, you work both strategically and hands on when coordinating communication for the project. You plan and execute campaigns to increase awareness of the project, develop and launch digital tools and reports as well as organising seminars. You are a key player in the project team and are responsible for setting goals for the communication and execute the plan with quality, at the right time and on a budget.
At Civil Rights Defenders, you are part of the communications department, consisting of the Communications Director and five communications officers with different areas of responsibilities. As part of the communications department, you will also work with other communications related to Civil Rights Defenders' work. You report to the Communications Director.
Key activities include
Developing a communication strategy for the project and coordinate communication in line with the strategy.
Writing and editing reports, news articles, flyers, invitations and other texts.
Responsible for developing a digital platform, a database and an app for legal guidance in cooperation with developers.
Responsible for contacting suppliers and clients.
Launching the database, the app and the digital platform.
Planning, implementing and following up on campaigns and events relevant to the project and its various target groups.
Producing digital material for the project's channels, such as images, infographics and simpler film scripts.
We are interested in applicants with
Academic education in media and communication or equivalent.
Skills in writing and a ability to explain complicated contexts adapted to different target groups.
Experience working with digital platforms and databases.
Experience in working with different vendors.
Very good experience working with WordPress.
Documented experience in project management.
Responsible, structured, self-driving and has a strong focus on deliveries.
Ability to cooperate and build relationships.
Experience in working with social media.
Know your way around the Office suite, Adobe Photoshop and / or simpler video editing.
Very good knowledge of Swedish and English, both written and verbal.
Education in political science, human rights or experience in the field is considered a merit.
Knowledge of issues related to compulsory care and other locked institutions is considered a merit.
Previous non-profit or rights-based work is considered a merit.
Experience in Microsoft Office 365 is considered a merit.
Experience of designing layouts and knowledge in Adobe Creative Cloud is considered a merit.
Knowledge in photography and image editing is considered a merit. .
We are looking for someone humble who likes to work in an open environment. The work is done in close cooperation with colleagues and you need to be agile, perceptive and with a natural ability to create and maintain good relationships in effective cooperation with others.
In order to enjoy working with us, you, like us, are passionate about human, civil and political rights for everyone. We are a dedicated team with different experiences and skills. Since we are a small team, we value personal qualities.
What we offer
By working at Civil Rights Defenders, you get an opportunity to make a difference in the world. You will work in an exciting and international environment with colleagues passionate about their respective areas of expertise. As an organisation, we strive for diversity. We look at your background, experience and personality as a contribution to the organisation's overall goals. We offer benefits such as wellness contribution and pension provision and insurance according to our collective agreement.
About the position
Permanent employment (100%) with an initial six months probation period.
Starting as soon as possible.
The position is based at Civil Rights Defenders' head office in Stockholm, Sweden.
Application
To apply, submit your cover letter and CV to recruitment@crd.org no later than 14 February 2020. Please state "Ansökan kommunikatör" in the subject line. Interviews will be conducted on an ongoing basis, meaning the position could be filled ahead of the deadline. Welcome with your application!
For questions about this position, please contact Communications Director Maria Granefelt. Civil Rights Defenders has a local union club connected to Unionen. The union can be reached at crdunionclub@crd.org.